See The 3 Persons Recommended To President Buhari By AGF Malami To Replace Magu As EFCC Boss
Magu reportedly inching closer to losing his job as chairman of the Economic and Financial Crimes Commission (EFCC)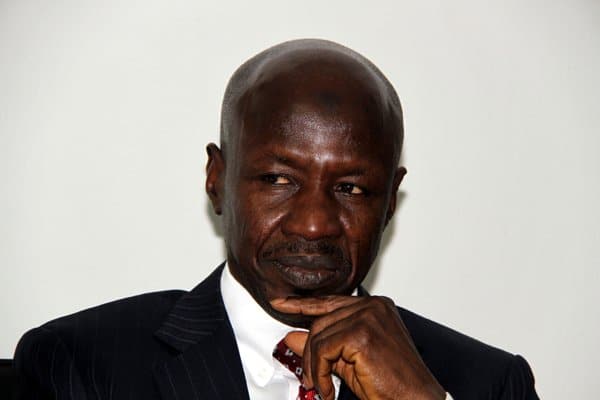 There are fresh indications suggesting that President Muhammadu Buhari is inching closer to relieving Ibrahim Magu of his job as the head of the Economic and Financial Crimes Commission (EFCC).
It will be recalled as reported by Naija News last week that Nigeria's Attorney-General and Minister of Justice, Abubakar Malami has forwarded a petition to President Buhari recommending the sack of Ibrahim Magu as the Acting Chairman of the EFCC.
Malami in his petition against Magu as the EFCC boss to the President, listed 22 weighty allegations against him to justify the recommendation of his sack from office.
Three high profile candidates were also included in the AGF's petition to the president as possible replacements for Magu.
It has now been learnt that the three names Malami sent to Buhari in a memo, according to THEWILL, are Deputy Inspector-General of Police, Mohammed Sani Usman (retd); the FCT Commissioner of Police, Mr. Bala Ciroma, who was EFCC Head of Operations, and a retired Assistant Inspector-General of Police, AIG, from Kebbi State.
Magu has been in acting capacity as the EFCC boss since 2015 following the refusal by the 8th Senate under the leadership of Dr. Bukola Saraki to confirm him as the substantive head, citing damning security report from the Department of State Services (DSS) as its reason.
It is further understood that the president had earlier vetted Ms. Diseye Nsirim-Poweigba, a retired police commissioner in Niger State, as a replacement for Magu, but a source revealed that Diseye Nsirim-Poweigba is no longer in connection to replace Magu as the head of Nigeria's major anti-graft agency.