Protesters Storm APC National Secretariat, Demand Sack Of NWC (Photos)
Protesters take over APC National Secretariat in Abuja, demand sack of NWC members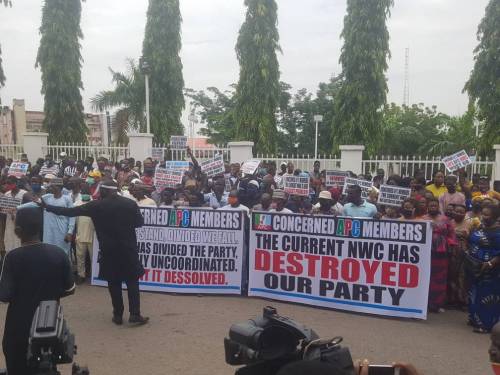 Some aggrieved members of the All Progressives Congress (APC), Nigeria's ruling party on Monday stormed the party's national secretariat in Abuja.
The protesters who carried various placards are demanding that the current members of the APC National Working Committee (NWC) should be sacked immediately.
They alleged the current NWC members have failed the party and should be relieved of their duties.
This development is coming at a time President Muhammadu Buhari is meeting with APC Governors to discuss solutions to some of the crisis rocking the party.
The protesters under the platform of Concerned All Progressives Congress Members promised to take their protests to other states if President Muhammadu Buhari and National Executive Committee of the party do not convey an emergency meeting and dissolve the present NWC within 72 hours.
Leader of the group, Opokwu Ogenyi, said the party needs a change in leadership to save it from total collapse.
Opokwu said, "This present National Working Committee has caused us to lose seven states to the opposition. APC had twenty four states governors before the present NWC, today we have 18 governors. Just yesterday, the deputy governor of Ondo State left us and joined opposition Peoples Democratic Party."
See photos from the protest: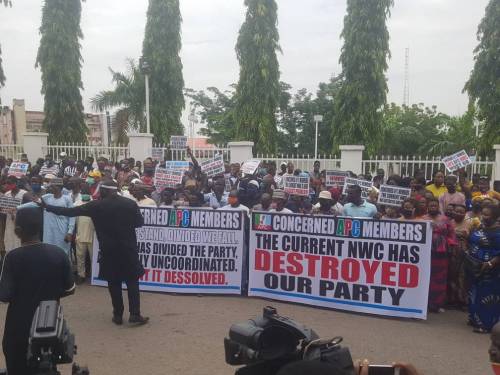 Opokwu also condemned the current situation in the party where different individuals are laying claim to the party's National Chairmanship seat.