LIVE UPDATES: Ize-Iyamu Wins Edo APC Gov'ship Primary (Full Results)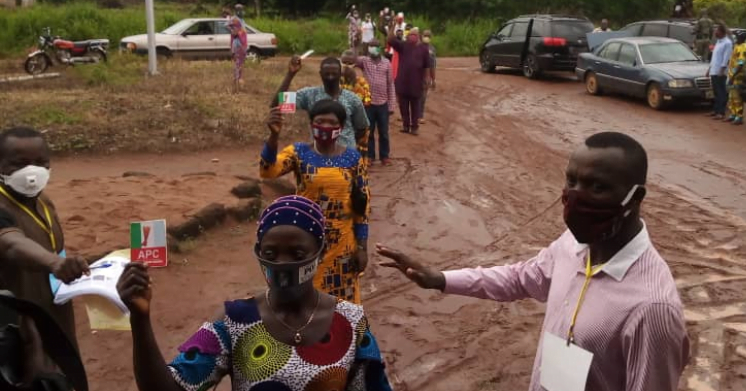 Pastor Osagie Ize-Iyamu has emerged the winner of the All Progressives Congress (APC) Edo State Governorship Primary.
The mode of election adopted by the National Working Committee of the party was direct primary.
Other aspirants that contested against Ize-Iyamu for the APC Governorship ticket are Dr Pius Odubu and Mr Osaro Obazee.
See Results below…
RESULT (Egor)
Ize-iyamu 1794
Obaze 53
Odubu 81
RESULT (Oredo)
Ize-iyamu. 1902
Obaze 308
Odubu 67
RESULT (Estako West)
Ize-iyamu 1754
Obaze 150
Odubu 262
RESULT (Estako East)
Ize-iyamu 1529
Obaze. 105
Odubu 196
RESULT (Estako central)
Ize-iyamu 1033
Obaze 238
Odubu 326
RESULT (Akoko-Edo)
Ize-iyamu 1335
Obaze 185
Odubu 262
RESULT (Esan west)
Ize-Iyamu- 1,145
Obaze- 162
Odubu- 220
RESULT (Egueben)
Iyanmu- 1,300
Obaze- 178
Odubu- 251
RESULT (Orionwon)
Iyamu- 1,750
Obaze- 171
Odubu- 418
RESULT (Uhunmode)
Ize-Iyamu- 1,394
Obaze- 183
Odubu- 274
RESULT (Ikpoba- Okha)
Ize-Iyamu- 1,581
Obaze- 67
Odubu- 99
RESULT (Ovia south-west)
Ize-Iyamu- 1,668
Obaze- 79
Odubu- 108
RESULT (Ovia north)
Ize-Iyamu- 1,650
Obaze- 70
Odubu- 124
RESULT: Esan northeast
Ize-Iyamu- 1,467
Obaze- 139
Odubu- 176
RESULT (Esan south-east)
Ize-Iyamu- 1,400
Obaze- 144
Odubu- 205
RESULT (Owan East)
Ize-iyamu 1606
Obaze 162
Odubu 230
RESULT (Owan west)
Ize-Iyamu- 1, 537
Obaze- 216
Odubu- 307