Oshiomhole Fires Giadom Over APC National Chairman Crisis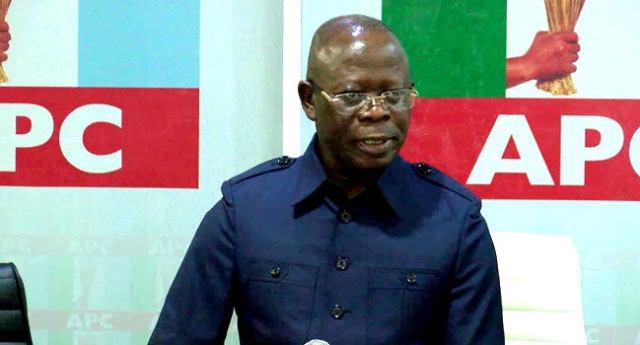 The suspended National Chairman of the All Progressives Congress (APC), Adams Oshiomhole, has lambasted the Deputy Secretary of the party, Victor Giadom.
Naija News reports that the Appeal Court on Tuesday upheld the decision of an Abuja High Court to suspend Comrade Adams Oshiomhole as the APC National Chairman.
Following Oshiomhole's suspension, the ruling party National Working Committee (NWC) in a statement by its National Publicity Secretay announced Senator Abiola Ajimobi, who is reportedly down with COVID-19, as the new acting National Chairman of the party.
However, the Deputy National Secretary of the APC, Victor Giadom, laid claim to the position of national chairman.
In a statement by his lawyer, Chief Wole Afolabi, Giadom insisted that the office of the Acting Chairman is his to occupy.
He insisted that the order of the Federal Capital Territory, FCT High Court issued on March 16, 2020 by Hon. Justice S.U Bature in Suit No. FCT/HC/M/6447/2020 to the effect that Chief Victor Giadom is to act as the National Chairman of the party following the suspension of Oshiomhole remains valid.
Reacting while speaking on Channels TV, Oshiomhole said going by the rules of APC, Giadom was not in the position to take over as Acting National Chairman.
He said: "My advice to my brother, Victor, is about common sense – in the absence of the Chairman, there is nothing in our rules and the court can only interpret the rules of the party and the Constitution of Nigeria.
"It serves the common sense that if the chairman is absent, it should be the deputy; in the absence of the deputy, it is the vice-chairman. How does the deputy secretary come in? As we speak, we have a secretary in the office. People should put God first, our party's interest second, and our democracy deep in their hearts and not trying to use any externality to destabilise it.
"Everybody knows that we ought to resolve issues in line with the party's rule. How can a deputy national secretary, assuming he was still one, claim to be the chairman?"