How To Use The New Twitter Voice Notes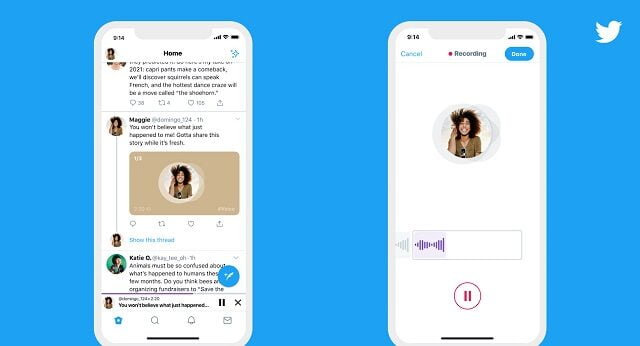 Twitter has long ceased to be the 140 characters social network, but many people keep the customs of that time and continue to express themselves a lot in a few words. However, among all the updates that the social network seems to be exploring in 2020, the possibility of making tweets with voice.
Twitter has announced the launch of a test available to a limited group of iOS users of voice note tweets. Tweets using the new feature include a user profile image with a play button to listen to up to 140 seconds of audio from a tweet.
Prepare to tweet with voice
As the platform describes in his blog, tweeting with your voice note is not much different from tweeting with text and the idea is rather to reduce misunderstandings and "create a more human experience". To create a voice tweet, users must follow almost the same steps as for a written tweet, with its clear difference:
1.Open the Tweet composer and tap the new icon with wavelengths .
2.The profile picture of the creator will appear with the save button at the bottom; tap it to save your tweet.
3.Every voice note captures up to 140 seconds of audio. Once you reach the time limit for a message, a new voice note tweet is automatically launched to create a discussion thread.
4.Once you are finished, press the "Ready" button to complete your recording and return to the composer screen to tweet.
As the company also explained, voice tweets represent the necessary evolution by which the platform has been characterized to better transmit messages:
… Over the years, photos, videos, gifs and additional characters have allowed him to add his own style and personality to his conversations. But sometimes 280 characters are not enough and certain nuances of conversation are lost in the translation. Starting today, we're testing a new feature that adds a more human touch to the way we use Twitter: your own voice.
Although Twitter is running limited testing on iOS starting today, it says that Everyone should see the feature on iOS "in the coming weeks. " As it is implemented, users will see a purple sound wave icon to the left of the camera icon above their keyboard in the interface where a new tweet is in progress. 'writing.
On Twitter, they say, "We can't wait to see how people will use this to make their voices heard and add to the public conversation" and so far, personally, I can't imagine the dynamics of the platform with these tweets. and their more human touch.
Source: Naija News