Nigerians React As 'Lucifer' Appears In TB Joshua's Church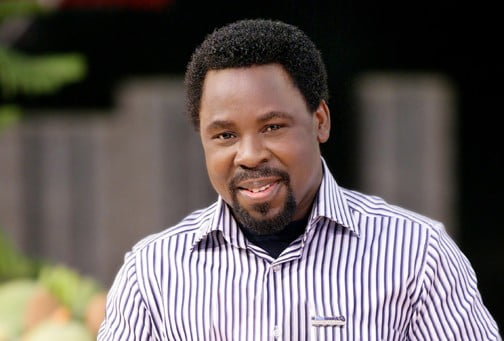 A storm of reactions by Nigerians has greeted a video showing the moment a supposed Lucifer appeared in Prophet TB Joshua's church, the Synagogue Church of All Nations (SCOAN).
Naija News had reported earlier that in a one minute, fifty-seven seconds video which has gone viral, the SCOAN Pastor and a lady who identified herself as Lucifer could be seen in a heated argument with each seeking for supremacy.
The heated argument occurred when the Pastor asked the supposed Lucifer: "What do you want"? The Lucifer responded: "What do you mean? Have you ever seen anybody talking to me standing?"
He continued: "Can you introduce yourself? Who are you?" The lady replied: "I am Lucifer". The Pastor responded: "Come here in the name of Jesus!". The lady Lucifer responded: "I am not coming," the pastor replied: "Jesus is greater than you," the lady responded: "I am not coming."
The SCOAN Pastor continued:" You are powerless in the face of Jesus. now I command you, in the name of Jesus, come here!" The woman replied: "I came for revenge. You scattered my kingdom yesterday, all you small small boys", the pastor replied: "Come here and talk in the name of Jesus", the lady responded: "I am not coming. You don't command me, you bow to me!"
Watch the full conversation below…
Church Drama or what is this ? pic.twitter.com/0et4AYdKYw

— Bizzle Osikoya (@bizzleosikoya) June 3, 2020
Moments after the video went viral, Nigerians took to the micro-blogging site, Twitter to react to the heated argument between the SCOAN pastor and the Lady Lucifer.
Naija News captured some of the reactions below…
Lucifer, TB Joshua and the liquid metal going to receive their Oscar award after a great performance in church ??? pic.twitter.com/AUhbezCBXx

— Last Born™ ???? (@007Cardinal) June 3, 2020
I trust Odumeje.. All the time TB Joshua was using to dialogue with Lucifer since.. Odumeje would have already given her attitude adjustment smack down and attended to another demon… No time.

— Alhaji Mukty ? (@callmemuktar) June 3, 2020
Lucifer after Tb Joshua closes church service pic.twitter.com/nUrjabHt6c

— SMOOTH ZIPPY NIGGA?? (@prontoszn) June 3, 2020
This acting is lit ???
Lucifer vs TB Joshua ?

— timi of lagos (@timi_of_lagos) June 3, 2020
If it was Odumeje that was commanding that Lucifer instead of TB Joshua ??? pic.twitter.com/ovXHzVLEfB

— Baby boy ? (@Iam_ChisomLucky) June 3, 2020
…And TB Joshua's followers in that church Watching the Lucifer drama would be like "Blood of Jesus! The Devil issa liar! "

Tragic!

— Alhaji Mukty ? (@callmemuktar) June 3, 2020
Devil in hell watching Lucifer drama by Pastor TB Joshua pic.twitter.com/uGu363SAeT

— Prince of Nigeria (@SENSE44543468) June 3, 2020
Lucifer during auditions with TB Joshua pic.twitter.com/nvgPOaPMvI

— Demi.Tha.Creator™ (@TheDemigad_) June 3, 2020
TB JOSHUA vs. LUCIFER
meanwhile JESUS and LUCIFER (show thread)?? pic.twitter.com/vE7WPkFV11

— 110k(check pinned tweet) (@mouldisgreat) June 3, 2020
Nothing much. Just lucifer using microphone to hold a heated political debate with TB Joshua pic.twitter.com/AgUg321MU4

— Daddy D.O?? (@DOlusegun) June 3, 2020
Lucifer to TB Joshua after the Service pic.twitter.com/JQSUgIxeiF

— King Nonny ? (@Zaddy_nomso) June 3, 2020
I don't know about you guys, but holding the microphone for Lucifer should go in to your CV

Interviewer: What is your greatest skill ?

You: I stand strong in the face of evil and adversity. I am unshaken in the face of terror

— Iphisto??? (@Ipheesto) June 3, 2020