Angry Mob Sets Suspected Thieves Ablazed In Calabar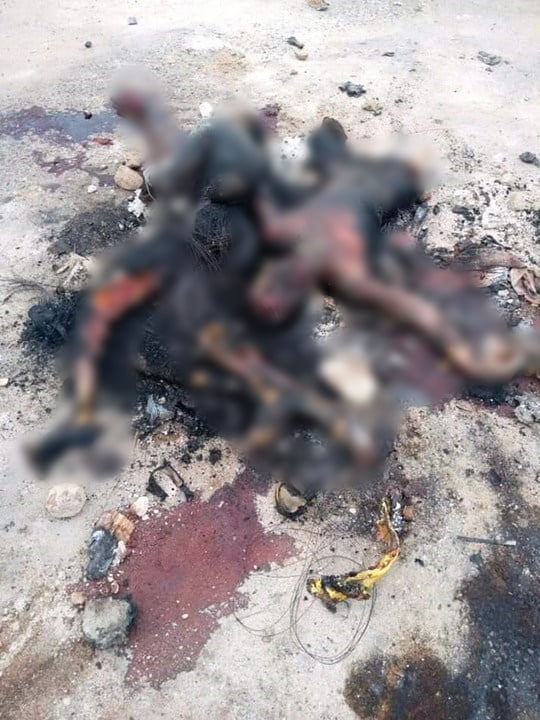 An angry mob in Calabar, the capital city of Cross Rivers on Saturday, May 30 burnt to death some two young men suspected to be thieves.
It was reported that the alleged thieves were set blazed and almost to ashes after they were caught by residents of Ekpo Eyo following their trail from Orok Orok.
According to a local reporter, the thieves had fired guns at people running after them but they could not stop chasing them until they were caught.
The source who pleaded to be anonymous for security reasons said, " They were three in number. One of them hid behind a transformer in the area to avoid being caught but unfortunately, he was caught. While one escaped, two were not lucky".
Confirming the incident, the State's Police Public Relations Officer, DSP Irene Ugbo noted that its command has been informed of the happening and has deployed its men to arrest those involved in the burning of the thieves.
Irene said, "Yes I'm aware of the incident. The report got to me early this morning. According to what we gathered, three of them were on a mission when eventually the people of the area caught them. One of them escaped with a gun while two were unlucky and were lynched".
Condemning the public from acting on their own on such cases Irene added, "Whatever it is, we don't encourage any member of the public to take laws into their hands. We have been preaching against such acts. It's an unfortunate one. Our DPO has gone to the area to see if they can arrest the perpetrators.
"They were supposed to arrest them and hand them over to the police, not to take laws into their hands. So, we are working on it."
Meanwhile, Naija News had reported earlier that an All Progressives Congress (APC) chairman in Katsina State has been laid to rest yesterday after he was gunned down by a yet to be identified group of armed men whom he struggled with to escape been kidnapped.
Source: Naija News