COVID-19: Details Of President Buhari's Virtual Meeting With Nigerian Governors Forum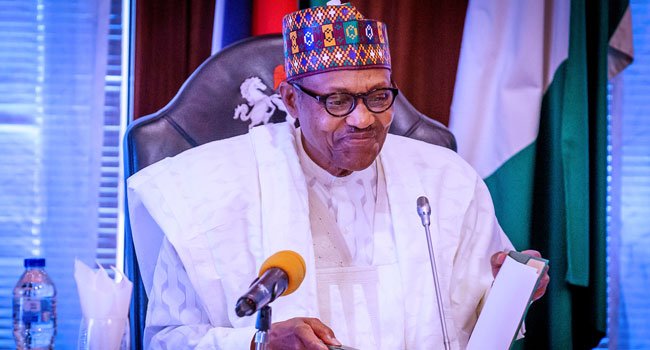 Nigerian Governor forum has met with President Muhammadu Buhari earlier today via Video conferencing.
Speaking on what is expected of the governors,  Buhari urged all 36 state Governors to work closely with the Presidential Task Force (PTF) on COVID-19 "to engender better harmony in the daunting task of checking the pandemic"
According to a statement signed by Buhari's Special Adviser on Media and Publicity, Femi Adesina, the President made the call during a virtual meeting on Monday with the Governors' Forum.
"COVID-19 is beyond technology, power, and resources. Countries that have all these are recording the highest casualties round the world.
"We have to be very careful. We need to continue to educate and persuade the people to accept the reality of the situation and do all that is necessary to stay safe.
Meanwhile, Buhari has also directed that the first phase of the eased lockdown measure be sustained for another two weeks.
Secretary to the Government of the Federation SGF and Chairman of the Presidential Task Force (PTF) on the Novel Coronavirus (COVID-19) Pandemic, Mr Boss Mustapha, announced this during Monday's daily press briefing by the task force.
The SGF explained that the President's decision was informed by the realisation of the fact that any further relaxation of measures adopted to contain the spread of COVID-19 would mean grave danger for the nation.
Mustapha, who took a cursory review of the last two weeks when the current measures were instituted, observed that despite the efforts made so far, Nigeria was not ripe yet for a full opening of the economy, adding that all necessary sacrifices must be made in the interest of Nigerians.
To this end, he said President Buhari had ordered that the current level of eased lockdown should be repeated from midnight of Monday, May 18 to June 1, 2020, this would include the 8pm to 6am nationwide curfew that had since been in force.
He also said that the total lockdown on Kano state had been extended with another two weeks, while a precision lockdown would be imposed on states or metropolitan areas which had been identified as high burden areas.
Also, the SGF said government would henceforth engage in aggressive scaling up of community participation in the campaign against the COVID-19 scourge.