COVID-19: We Are Not Monitoring Chinese Doctors, They Are Not Our Responsibility – FG Declares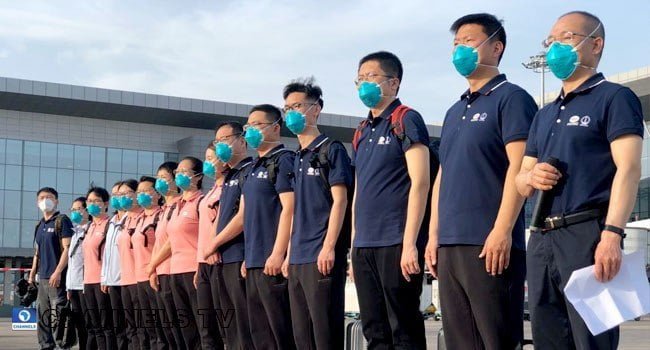 The Federal Government of Nigeria has noted that it is not keeping a close tab on the movement and activities of the Chinese medical team that arrived in the country on 8th April, 2020.
This was disclosed by the Minister of Health, Osagie Ehanire in Abuja on Thursday during the 31st joint national briefing of the Presidential Task Force (PTF) on COVID-19.
He added that the Chinese team were not guests of the government but were staff members of the China Civil Engineering Construction Corporation (CCECC) who came into Nigeria on a company visa.
Naija News recalls the medical team were isolated and quarantined at an undisclosed location for 14-days upon their arrival in Nigeria and all tested negative to the coronavirus as confirmed by the Nigeria Centre for Disease Control (NCDC).
The Federal government says it has no responsibility to tell the whereabouts of the Chinese medics who came into Nigeria at the outset of the coronavirus pandemic in the country as they were not invited by Nigeria but came in on a company visa.
Speaking on the sustained interest on the whereabouts and activities of the Chinese team in Nigeria, the health minister noted that they are not government responsibility but they have been able to learn some things from them about managing COVID-19.
In his words:
"I think not all of them were doctors and I heard that some of them are technicians, but they are staff of CCECC. The Ministry of Health is not their host, so we can't always explain what happened to them or where they are.
"There seems to be a lot of interest in these doctors. But they are the staff of the company and I think that they are on a company Visa."
"I will be very happy if you don't ask me about where they are because they are not really our guests. But we have been able to learn some things from them by interacting with them from their experience in their country and they did tell us and we shared ideas on what they did in their country in managing COVID-19," Ehanire said.
He, however, disclosed that the Chinese medical team is not in the country to treat COVID-19 patients in Nigeria.