Why Nigerians Must Reject COVID-19 Vaccine Bill – Bishop Oyedepo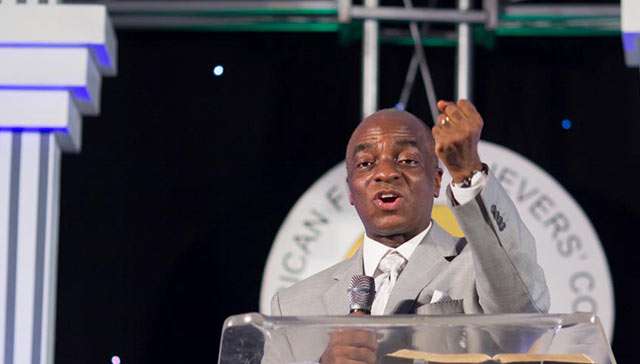 Bishop David Oyedepo of the Living Faith Church, also known as Winners Chapel, has condemned moves by the National Assembly to introduce a bill to make the coronavirus (COVID-19) vaccines compulsory in Nigeria.
Naija News reports that the Speaker of the House of Representatives, Femi Gbajabiamila, had sponsored a bill titled "Control of Infection Diseases Bill 2020" which was passed for both first and second reading in the House of Representatives.
Gbajabiamila said the Bill was conceived in the best interests of the Nigerian people.
Nigerian Senate had also on introduced its own Infectious Disease Control Bill under a new name amid the Coronavirus (COVID-19).
The Bill titled: "National Health Emergency Bill" sponsored by the Chairman Senate Committee on Communicable Diseases and Primary Healthcare, Senator Chukwuka Utazi (Enugu North) scaled first reading on Tuesday.
Human rights lawyer Femi Falana (SAN) had kicked against the bill, warning that the efforts to replace the Quarantine Act was a waste of time.
According to the lawyer, the Nigeria Centre for Disease Control (NCDC) and Prevention Act of 2018 has taken care of what lawmakers were trying to introduce.
Falana said: "It is pertinent to inform Nigerians that in November 2018, a law was enacted in this country – the Nigeria Centre for Disease Control Act, NCDC Act, which has taken care of infectious diseases in the country.
"So, it is not correct, in fact, it is misleading on the part of the House of Representatives to say that it is amending the 1926 Quarantine Act because there is already a development between 1926 and now. You had the 2018 Act which has taken care of the entire provisions of the new bill.
"The new bill, as far as the law is concerned, is superfluous. Its provisions are largely illegal and unconstitutional."
Also reacting while speaking at the Church communion live broadcast , Bishop Oyedepo said claimed that agents of the devil were trying to bring a flood of evil upon humanity.
He said that something evil was being schemed by some individuals and that people perpetrating it don't know why.
"You must take a vaccine! Why will you force me to take a vaccine? For what?" Oyedepo asked.
"You don't take vaccines, you don't go outside the country! How? Where is it coming from?
"Evil scheming of evil men, gang up of agents of the devil, trying to bring a flood of evil upon humanity. And now from the vaccine: autism; from the vaccine: higher mortality rate of deaths."
Bishop Oyedepo stated further that his outcry over the closure of churches was for the kingdom of God.
He said: "It's over!! Whatever troubles God's agenda will be troubled. The most valuable asset to God is the human life.
"If you see me screaming and crying: it's for the Kingdom, absolutely so. You mean you keep God's people, block their access to spiritual food for 4 weeks, 5 weeks, 6 weeks, 7 weeks and you are going to the market, buying and eating with 10 fingers. You kept students from school.
"This is an imported virus, how has it become our own? Why must we now have it?
"There is something going on here! Something evil is being schemed by some individuals and those who are perpetrating it don't even know."