Prophet Odumeje In Fresh Trouble With Arondizuogu Native Doctor (Video)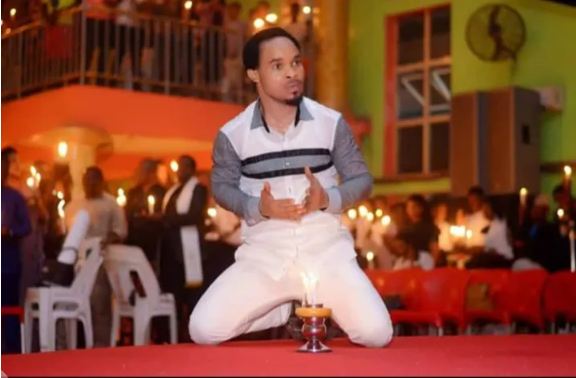 Naija News reports that Arondizuogu native doctor, who is the son of late Pericoma, a strong medicine man, challenged Prophet Odumeje to a spiritual over a statement, he made about the late strong native doctor Pericoma and the people of Arondizuogu.
The problem between Prophet Chukwuemeka Ohanaemere who is the Spiritual Director of Mountain of Holy Ghost Intervention Deliverance Ministry World Miracle Center, alias Land of Freedom and Pericoma's son is about to be settled as a very popular native doctor and the son of late Pericoma is set to engage the controversial Anambra Prophet.
The popular native doctor and the son of late Pericoma made the declaration in a video which surfaced online, telling the General Overseer of Holy Ghost Mountain Ministry to choose a date for both of them to engage in Spiritual Welfare.
Perry's decision to challenge Prophet Odumeje is coming after the controversial Anambra Prophet insulted the family of Pericoma, saying that everyone in the community of Arondizuogu where Pericoma is from, are poor people.
Pericoma's son insisted that the battleground for his challenge with Prophet Odumeje should be inside the church auditorium of the controversial Anambra prophet in other not to counter any claim after he defeats the "Fake Prophet" as he said.
"One Of Late Pericoma's Son, Omor Perry Draws Battle Line against Onitsha based Controversial Prophet, Odumeje for Talking Down On His Family And Saying That Everyone In Arondizuogu Is A Poor Person. Dares The Prophet, Saying He Should Book Appointment With him In His Church, Not Even Elsewhere, To Test That His Small Magic," Torixus media posted on Facebook.
Watch the video below…
Odumeje and Son of Pericoma!
How will this end??? pic.twitter.com/Bk2VZgR8io

— Justin Kaycee???? (@kaycee_justin) May 6, 2020