COVID-19: Seven People, Including A Doctor Reportedly Test Positive At Ogun FMC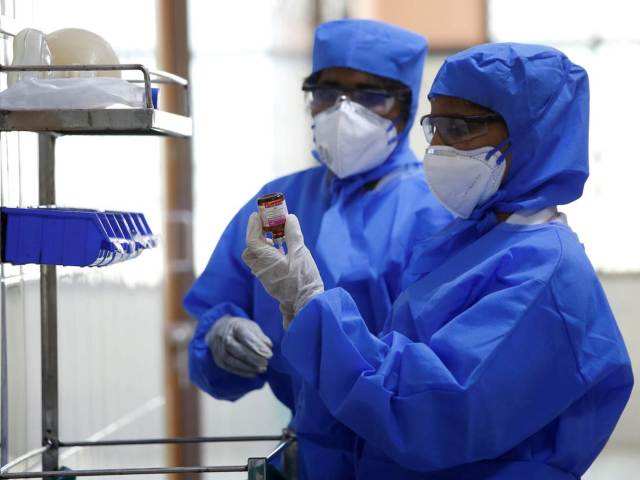 Three health workers suspected to have had contact with a pregnant woman who died of COVID-19 convolution a few days ago in Ogun State, have reportedly tested positive for the global pandemic.
According to the report received by this online news platform, seven persons of which three are health workers, and the other four, patients at the Federal Medical Centre (FMC), Abeokuta, Ogun State, have reportedly tested positive for COVID-19.
Naija News understands that the three health workers in the FMC include a doctor and two nurses.
It was reported previously that a pregnant woman awaiting her test result in the FMC died just before seeing the result.
Naija News gathered that the Federal Medical Centre, FMC Abeokuta had within the week forwarded ten samples to be examined, out of which seven came back positive yesterday.
An anonymous source disclosed to newsmen that one of the affected persons had just returned from Kebbi State.
Meanwhile, while trying to get more fact on the report, the Ogun FMC Head of Public Relations, Segun Orisajo, was contacted by newsmen.
Orisajo confessed to Daily Post that so far only two patients have tested positive for Coronavirus in the FMC.
"So far, no doctor (is) affected," he revealed.
"some (health workers) are on self-isolation based on exposure to COVID-19 patients," he revealed.
Orisajo added, "FMC Abeokuta on Friday evening recorded two cases of patients who tested positive for coronavirus."
Meanwhile, Commissioner for health in Lagos, Akin Abayomi, has noted that it is sometimes difficult for patients to be located after their samples have been tested for the coronavirus.
The Commissioner said such patients run from their homes and become unreachable on their mobile phones.
Source: Naija News