Nnamdi Kanu Lists 3 Prominent Nigerians That Must Be Released From Jail After Orji Kalu's Freedom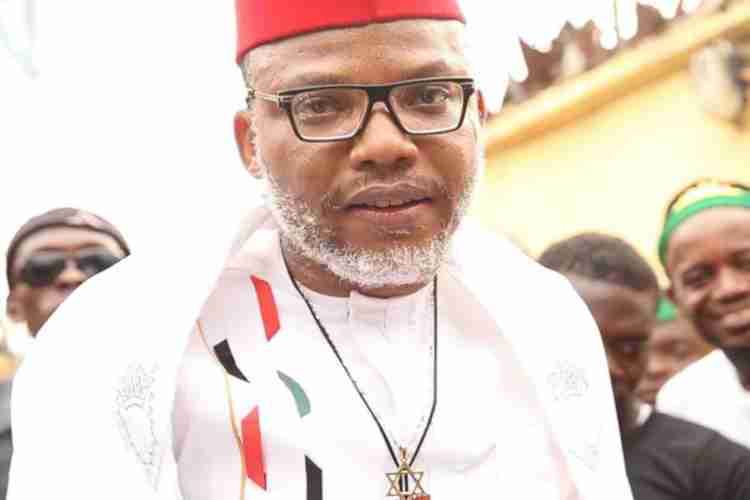 The leader of the Indigenous People of Biafra (IPOB), Nnamdi Kanu has listed three prominent Nigerians that must be released from jail after the Supreme Court judgment on Orji Uzor Kalu, a former governor of Abia State, southeastern Nigeria.
Naija News reports that the Supreme Court on Friday nullified the conviction of the former governor of Abia State. Kalu was sentenced to 12 years in prison over N7.16 billion fraud by a Federal High Court sitting in Lagos, on December 5.
Justice Mohammed Idris had convicted Kalu on a 39 count of N7.2 billion fraud and money laundering preferred against him by the Economic and Financial Crimes Commission (EFCC), but on the Supreme Court on Friday, gave a fresh order, stopping the judgment.
Justice Amina Augie who led a seven-man panel of Justices held that the trial Justice Mohammed Liman of the Federal High Court in Lagos acted without jurisdiction. The Chief Judge of the Federal High Court will reassign the case for a fresh trial.
Reacting to the judgment of the apex court, Kanu, thanked God for the court ruling which went in favour of the Abia North Senator and warned President Muhammadu Buhari against jailing Christians and Southerners.
Crediting his group, the IPOB for Kalu's freedom, Kanu urged Buhari's administration to release other victims of the alleged lopsided prosecution until all stolen money by the alleged cabal at the Presidency is accounted for, starting from the nearly 14 billion Aso Rock Clinic looted from 2015 to date.
Kanu, who is on exile, called for the release of Joshua Dariye, Jolly Nyame James, Bala Ngilari and others currently in different correctional centres in the country, adding that there should be an end to selective prosecution.
His words: "God Almighty Chukwu Okike Abiama takes all the glory but I must also say that the moderately reasonable Alimajiri judge that quashed the original conviction should be commended for saving Abba Kyari & the rest of the core north from damaging scrutiny and global shame by #IPOB. Those that ignore our warnings do so at their peril.
"We have set Orji Uzor Kalu free today and while all reasonable Igbo people are happy, I am also looking forward to hearing the same about Olisah Metuh soon.
"There are other victims of this lopsided prosecution, they are incarcerated and MUST be released until all stolen money by this cabal is accounted for, starting from the nearly 14Billion Aso Rock Clinic they looted from 2015 to date.
"I am calling for an end to selective prosecution and the immediate release of the following people: Joshua Dariye Jolly Nyame James Bala Ngilari
"Until such a time that Nigeria is serious about prosecuting all looters, nobody should be in prison. You cannot be jailing Christians from the Middle Belt and South in the name of fighting corruption while Fulani arch looters are jostling for who will be the next Chief of Staff and in effect de-facto president. Such injustice is what we are against not your fight against corruption," the IPOB leader said.