Biafra: Nnamdi Kanu Releases Five Fresh 'Revelations' On Jubril Of Sudan And Buhari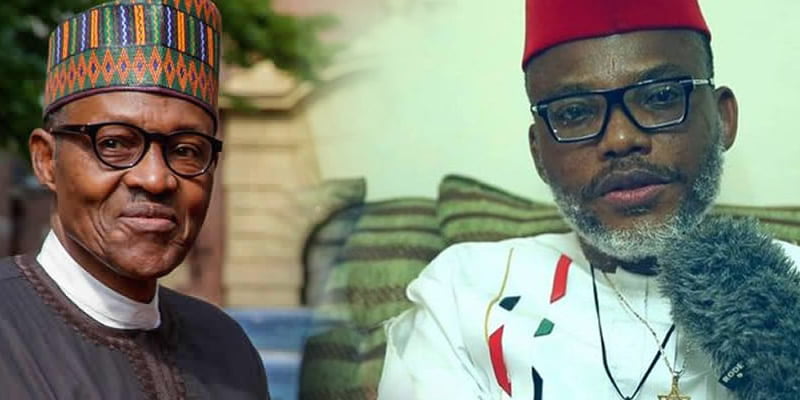 The leader of the proscribed Indigenous People of Biafra (IPOB), Mazi Nnamdi Kanu has refused to let go of his belief that the President of Nigeria, Muhammadu Buhari has been replaced by a body double.
On several occasions, Kanu has insisted that Buhari is dead and the person currently occupying Aso Rock as Nigeria's President is one Jubril from Sudan put there by the assumed cabals.
This is despite several refutals from the presidency on his submissions.
Meanwhile, the IPOB leader again on Sunday, May 3rd, took to the micro-blogging site, Twitter to outline some fresh proofs about his suspicion on a body double.
He said his revelations will prove to everyone that it is Jubril Al Sudani and not Muhammadu Buhari, claiming that the real Buhari has died due to multiple organ failures.
He wrote: "If you still believe it's Buhari, read this:
For those still unsure of whether it's Jubril Al Sudani or not, below is all you need to make up your mind. There are many more but, for now, these few points will do."
First, Buhari was about 76 years when he DIED. Before his demise, he looked very much his old age, plus he appeared noticeably frail and shriveled due to the multiple organ failures that ultimately claimed his life.
On the other hand, the Jubril you see today is about 50 years old & it shows in his gait, his vibrant steps, & the smoother tone of his face, skin & wrists. The one you can't miss is the deformity in Buhari's ear, which is now noticeably absent. How come?
Second, Buhari had receding hairline on the front crown of his head, leaving the rest his hair brittle. Towards the tail end of his life, the hair became very scanty and near-snow white. All these can be verified from his pre-2015 pictures.
Now compare to Jubril, who has a fuller mane of hair, darker hairlines, and now permanently spots a cap, which he has refused to remove despite being repeatedly dared to do so.
Third, Buhari was Fulani, so he spoke fluent Fulfude. He also spoke Hausa. Now, this Jubril does not speak Fulfude but speaks only Hausa, which is why he resorts to speaking Hausa as a diversion each time he is challenged to speak Fulfude.
Fourth, Buhari was a very tall person, noticeably taller than other known tall public officials such as former Senate President Saraki, who now appears taller than the man claiming to be Buhari. How come?
To explain this, Lai Mohammed claimed that Buhari appears shorter because he used to wear high-heeled shoes but no longer wears them now on the advice of his doctor. Does this make sense?
Fifth, since his claimed 'recovery' from his debilitating ailments and discharge from the London Hospital, the man that now claims to be Buhari has not been traveling to London for the mandatory post-surgery follow-ups. Why?
Is it plausible that Buhari, an old man who passed through multiple organ surgeries suddenly healed to the point that he no longer requires clinical follow-ups in London, especially now that international flights are suspended due to the COVID pandemic?
While you're pondering the foregoing, more revelations will be made in due course. Stay tuned. And stay safe," Kanu posited.