COVID-19 Lockdown: Seven Commercial Vehicles From Lagos Intercepted In Ilorin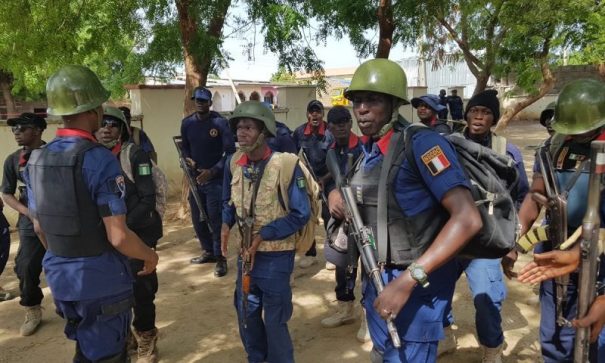 The men of the Nigeria Security and Civil Defence Corps (NSCDC), on Monday, April 20 reportedly grabbed seven commercial vehicles who were passing through Ilorin, in Kwara State from Lagos State.
According to the report which was confirmed to newsmen on Monday by the Public Relations Officer (PRO) of NSCDC Kwara Command, Mr Ayeni Olasunkanmi, the seven vehicles, fully loaded were stopped while passing through Ilorin for violating the Coronavirus lockdown order issued by the state government.
Naija News recalls that Kwara State government a week ago reviewed its earlier decision to allow vehicles to move on days earlier designated for the restocking of foods and other essentials, directing residents to instead patronize neighbourhood shops and observe all safety protocols.
The review means that commercial and private vehicles are now barred from operating, except trucks and trailers conveying foodstuffs, medicines and other essential services earlier exempted by the government in its effort to contain COVID-19.
Speaking on the intercept of the vehicles coming from Lagos State, Ayeni said, "The drivers and passengers were arrested for violating the stay-at-home restriction by the government."
"All arrested persons have been taken to Sango Magistrates' Court, Ilorin, for proper prosecution."
"Most of the vehicles moving around town during this lockdown are those that were allowed by the government, such as the medical personnel, farmers, journalists and others, but they are identified by their Identity card."
Meanwhile, Kwara State Governor, Abdulrahman Abdulrazaq on Friday confirmed five new index cases of COVID-19 in the state.