'We Have Charlatans In The Church' – Ashimolowo Attacks Pastor Chris Over Fake Miracle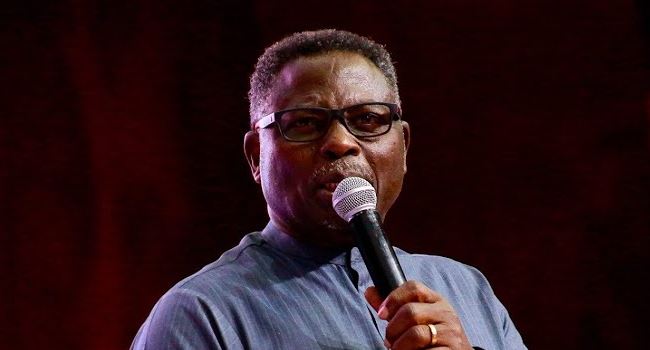 The senior pastor of the Kingsway Church, Pastor Matthew Ashimolowo, has attacked Pastor Chris Okafor for performing a fake miracle.
Naija News recalls that Pastor Chris Okafor of Mountain of Liberation and Miracle Ministry, aka Liberation City and four other Nigerian pastors were alleged to have paid and used a woman with a disfigured arm to perform a similar fake miracle.
It was alleged that the woman was paid the sum of N400, 000 for the fake miracle, a claim which Pastor Okafor denied through his counsel, Monday Ubani.
The Pastor had said: "The recent story in a national daily and online platforms that the sum of N400, 000 was paid to her for a fake miracle is not true.
"The lady in question came to church like every other person and the said programme through which she was healed was shown on a live television and there was nothing to hide because it was not only the woman that was healed.
"The church is not new, it's been in existence over 10 years and the members who keep increasing have experienced the touch of God one way or the other. So there was no issue of arranging any miracle to anybody", he had said.
Reacting to the fake miracle performed by Pastor Okafor in an Instagram live session with Lagos clergyman, Poju Oyemade, last night, Pastor Ashimolowo described him and other pastors as "Charlatans and fakers of miracles."
"We now have charlatans in the land who will be claiming the miraculous and they are just liars, faking it. I am sure you heard of the lady whom they were passing to one another who would be dramatising her hand because the nation wants to see the miraculous, they want to see the supernatural.
"The young men who were born in the fire of genuine revival need to be very careful or else all these guys who are just fakers of miracles who their God is their belly, they become the one that distracts," the Pastor said.
Pastor Ashimolowo also threw shade at controversial Anambra Prophet, Chukwuemeka Ohanaemere aka Odumeje, who is known to throw money at his congregation when preaching and his congregation also spraying money at him in return.
"They have one in Anambra. People throw money at him in his service. It's unbelievable. You would be wondering is this church" he lamented.