Coronavirus Is Just A 'Little Flu' – President Jair Faults Health Experts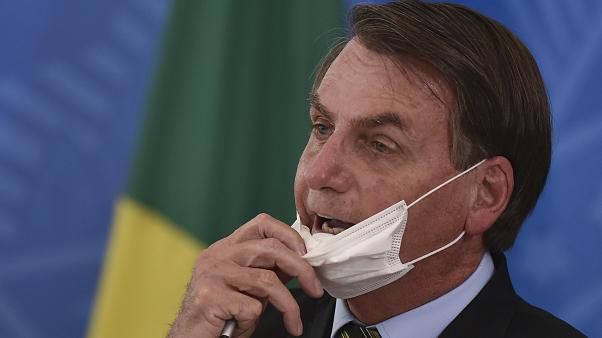 The entire world at the moment is battling with a global pandemic, Coronavirus, codenamed COVID-19. A disease which has claimed thousands of lives worldwide with a huge number of infected persons.
Medical experts from different nations of the world have been restless over the months as cases of the named virus continue to spread like a whirlwind.
However, reacting to the development, Brazil's President, Jair Bolsonaro has shunned advice from medical practitioners on COVID-19, describing the feared virus as is just a "little flu."
Speaking further about the deadly virus, Jair berates state governors who introduced quarantine measures as a measure of precaution against the said killer virus.
According to a report from Sky News, the Brazil President took to the streets to exchange pleasantries with the public amid the lockdown, ignoring the social distancing guidelines.
Naija News learnt that President Jair on Friday, while his country is enjoying a national holiday went to a military hospital for visits.
It was reported that Jair paused at a pharmacy, also checked on one of his sons in a residential building.
While the President was greeted by some supporters who snapped photos with him, some also subjected him to critics, banging pots and pans in anger over his insensitivity.
Meanwhile, Brazil has lost over 1,000 persons the dread disease since its emergence, Naija News understands.
According to President Jair, Brazil will continue to maintain jobs and the economy at this time must prevail as it can not afford to stop because of the 'little flu', he noted.
In a recent report, Naija News reported that FIFA President, Gianni Infantino said that football activities will not resume until the current global pandemic is over, adding that "no match is worth risking a life for."
Download NAIJA NEWS app: