COVID-19: Gov. Abdulrahman Addresses Kwarans On Coronavirus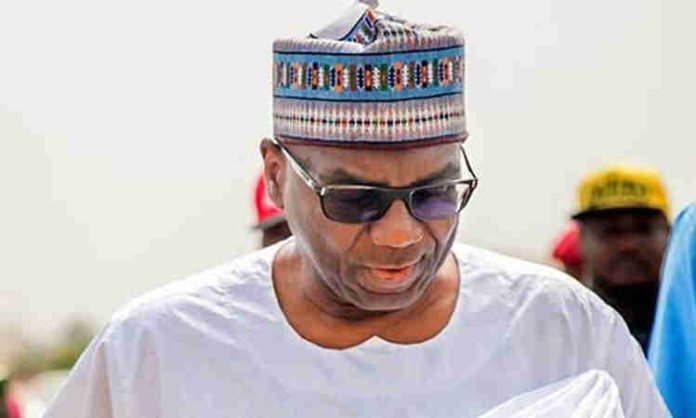 Kwara State Governor, Abdulrahman Abdulrazaq on Tuesday, April 7 in a press briefing addresses Kwarans on the first two cases of Coronavirus (COVID-19) global pandemic recorded in the state.
Naija News understands that the two cases of COVID-19 which has been confirmed in a statement by Mr Rafiu Ajakaye, media aide to the state governor and also Kwara State Technical Committee on COVID-19 press secretary on Monday, includes the wife of the UITH patient, a UK returnee, who died of the dread disease last week Thursday.
While the second victim of the virus is revealed also as a UK returnee.
The two cases were confirmed to be true following a test result delivered to the government from the Nigeria Centre for Disease Control (NCDC) Test Centre in Ibadan.
However, speaking on Tuesday in a press briefing at the Kwara state government house, governor Abdulrahman addresses the people of the state, alerting them that Coronavirus is real, adding that the two cases earlier announced are true and hence the need for Kwarans to adhere to basic precaution announced by the Federal government and health agencies.
According to the governor, the lives and well-being of the citizens of the state are important to the government, and that his administration is doing all it can to avoid the spread of the virus across the state.
When asked why the state borders are still open, Abdulrahman noted that the borders, most especially the highway to Lagos can not be shut down at the moment because of people transportin edible goods through the route from Northern part of the country to the neighbouring states to Kwara and beyond.
He, however, boast that the government will ensure proper measures are manage the transportations.
Governor Abdulrahman was also asked on why some markets are still allowed to do their business, and he said;
"As you all know that the government can not provide food for everyone, therefore the market may not be totally shut down as people may need to get some foodstuff for themselves."
"However, the government is coming up with a programme which will help with some palliative to support Kwarans," our correspondent quoted the governor saying this at the press briefing."
A correspondent with the Punch asked if the Kwara state government is working on installing a testing centre and the governor replied by saying that the state has to collaborate with the Federal government as regards having a testing centre.
He noted that the only COVID-19 testing centre close to the state is that of Ibadan, adding that federal government is making efforts to expand the installation of testing centres across the country and Kwara state will be part of the third phase for the installation.
Meanwhile, Naija News had reported that Professor, Akin Abayomi, Lagos State Commissioner for Health, has revealed that there are plans to commence coronavirus clinical trials in the state.
Source: Naija News