COVID-19 Lockdown: Man City's Walker Apologises For Hosting 'Sex Party'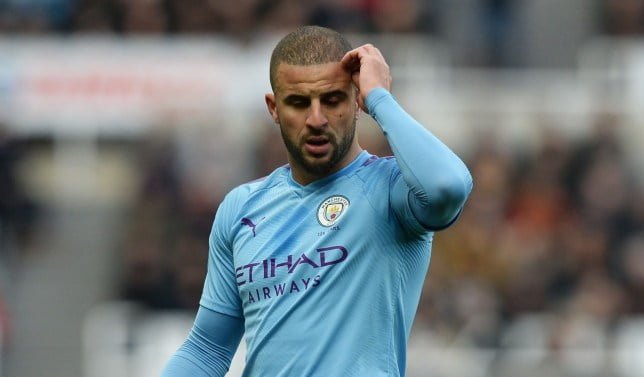 England National team player and defender for English Premier League side, Kyle Walker, has regretted his actions which violate the Coronavirus (COVID-19) lockdown order after he reportedly hosts a 'sex party' at his residence.
The Manchester City player was said to have organised a party at his apartment, with one of his ally alongside two other ladies that were invited, Naija News learnt.
The alleged 'sexy party' however was condemned by many considering that the player had earlier advised his social media followers to adhere to the COVID-19 lockdown rules as ordered by the government and also advised by health agencies.
Naija News understands that Walker held the party on Tuesday night at his flat in Cheshire.
Meanwhile, he had tweeted this earlier: "Please, everyone stay home, look after one another through this difficult time and check in on loved ones but don't visit them," said Walker while advising his Twitter followers.
According to a report by the UK Sun, Walker has tendered his apology and regretted his actions.
"I want to take this opportunity to issue a public apology for the choices I made last week," said Walker, UK Sun report.
"I understand that my position as a professional footballer brings the responsibility of being a role model.
"As such, I want to apologise to my family, friends, football club, supporters, and the public for letting them down.
"There are heroes out there, making a vital difference to society at the moment, and I have been keen to help support and highlight their incredible sacrifices and life-saving work over the past week.
"My actions are in direct contrast to what I should have been doing regarding the lockdown."
Reacting to Walker's COVID-19 lockdown violation, Manchester City on their part has said that an internal disciplinary measure will be taken on the player at due time.
The club stated: "We are disappointed to hear the allegations, note Kyle's swift statement and apology, and will be conducting an internal disciplinary procedure in the coming days."
Meanwhile, Naija News had reported earlier that Neymar has given $1 million to fight the impact of the new COVID-19 pandemic in his native Brazil, according to TV network SBT.