Nigerians React As Explosion Rocks Akure,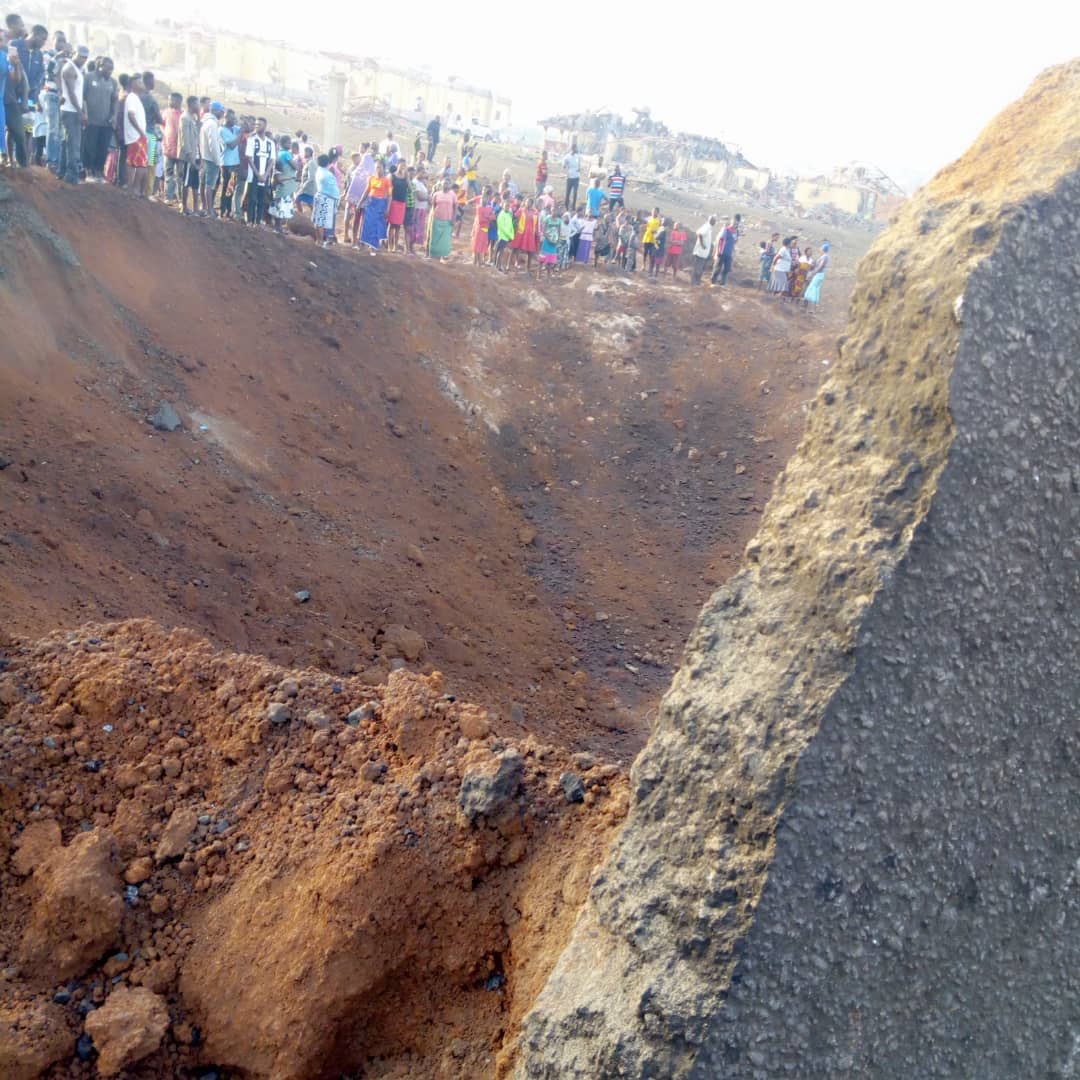 A very massive bomb explosion in Ilu- Abo in Akure north local government area of Ondo on Saturday morning, destroying over 100 residential buildings, school and churches Naija News understands.
The explosion was reportedly caused by a truck owned by a quarry company carrying explosives, the explosion created a big ditch on the Akure/Owo road.
The incident which happened less than a kilometre to Akure Airport, affected many residents of Eleyowo community, destroying completely a church and a school in the area.
Explosion rocked Akure overnight, destroyed houses including Possibility Church building, Ogbese, filling station and divided the road leading to Owo into 2 along the church axis.
Source: Radio Nigeria, Positive FM pic.twitter.com/IDaHYJziAK

— Olúyẹmí Fásípè AICMC (@YemieFash) March 28, 2020
Many people who lived within the church premises were said to be injured while some were rescued by the people of the community. The school with boarding facilities was destroyed beyond repair with roofs of all the buildings blown off.
The extent of damage and number of casualties is yet to be ascertained.
Meanwhile, the governor of the state, Arakunrin Akeredolu has promised to visit the scene of the incidence in a bid to assess the cause of the incidence.
I've been briefed by security agencies in the state concerning the loud blast that was heard in Akure. I will be at the scene to assess on the advise of heads of our security agencies.

I ask that all citizens remain calm as we ascertain details of the incidence.

— Arakunrin Akeredolu (@RotimiAkeredolu) March 28, 2020
However, this latest development has generated several reactions from Nigerians who are privately battling with the compulsory sit at home and Stay safe order given by the Nigerian governments.
Here are the reactions below
Akure blast along Akure – Owo express way around 1am 😲😲😲 pic.twitter.com/2I481EMYap

— Ike (@IykeOkoye) March 28, 2020
Akure people will disappoint you
Ignore the voice but look at extent of the damage pic.twitter.com/DevxV2VkQl

— SEGUNWORKS (@SEGUN_WORKS) March 28, 2020
Police report on what caused the blast in Akure early this morning pic.twitter.com/PMhctE55P1

— Ike (@IykeOkoye) March 28, 2020
I just spoke with my Aunt in Akure to confirm their safety. She said the explosion was so bad and she thought the world has come to an end. That I should go and repent cos she is sure rapture wants to take place very soon, given all that's happening. My people, repent o.

— Ayò-Bánkólé Akíntújoyè (@AyoBankole) March 28, 2020
Explosion in Lagos
Explosion in Akure
Tragic occurrence and deaths around the world.

All of these amidst Covid-19 outbreak.

Maybe the world is really coming to an end soon.

It's time to repent, y'all.

— Adewale Adetona (@iSlimfit) March 28, 2020
The Mining Engineer Is To Be Blamed For What Happened In Akure No Safety Measures Were Taken With Those Pictures And Few Videos I Saw It Was A Primary Blasting Of Rock That Occurred But With That Sound And Vibration It An Excess Explosive….

— Musa Yusuf 🇳🇬 (@OfficialMuss) March 28, 2020
Human Greed and illiteracy is the cause of problem in Nigeria. Trace the Genesis of Terrorism and bad Governance, all accrued to illiteracy.

— Aligba Trades. (@AligbaJerry) March 28, 2020
https://twitter.com/chimbiko_jerome/status/1243806807639953409?s=20
@RotimiAkeredolu visits scene of Bomb blast along Akure- Ogbese-Owo Road in Akure North LGA Ondo State…. pic.twitter.com/jC6TP3hXTP

— Dapo Olumurphy Aruwajoye (@D_Aruwajoye) March 28, 2020
Sir, please be careful because if it happens to be asteroids then the gases there might be hazardous to your health…I will even advice they move people away from the scene pending the time our scientist and security men can ascertain what really happened.#Staysafestayathome

— Olami (@Yahweh_Delight) March 28, 2020
It's very advisable to tell them to wear hazmat gears when going to the site.
You too should wear one when going to visit.
And try to find the people who were there to see a doctor…..if it's from outer space, & radioactive, in this corona period, then god help them🤦🏾‍♂

— Cruise Daddy😌 (@TheHavilah_) March 28, 2020
What would make a hole in the earth this deep? Asteroid, Meteorite or thunderstorm? And why Akure? pic.twitter.com/KOV0ASUPvP

— Laolao. (@itz_laolao) March 28, 2020
So alien space ship arrived at akure and u all saying its asteroid i think the alien came to give us the vaccine for #COVID19 pic.twitter.com/0y8Dhpy30Z

— TELIXS❄CRUZ (@TelixsCruz) March 28, 2020
Asteroid hit Akure? Where is the remnant? You think an Asteroid is a joke. pic.twitter.com/Lc6TKGFiYx

— Ayemojubar (@ayemojubar) March 28, 2020
Basically an asteroid is on a collision course with Earth and Congress just did the absolute best it could, which was to find a ragtag group of offshore oil drillers and pay them each ten billion dollars, not to train for a space mission to destroy it, but because they wanted it.

— Scott Santens (@scottsantens) March 28, 2020
https://twitter.com/volqx__/status/1243812511167721474?s=20