Nigerians React As Evangelist Claims Mercy Chinwo Dresses Seductively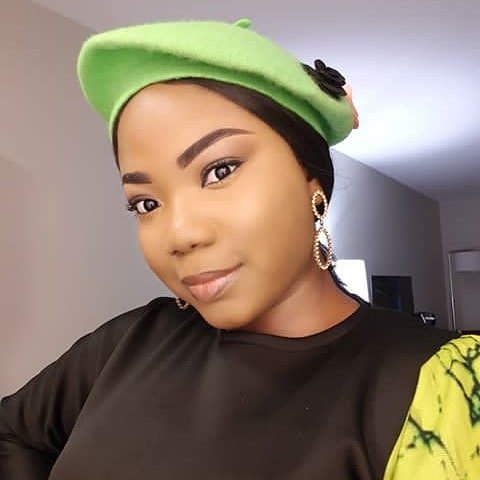 Many Nigerians have taken to the micro-blogging site, Twitter to share their views after a man identified as Evangelist Victor Edet shaded gospel singer, Mercy Chinwo accusing her of dressing seductively.
As earlier reported by Naija News, the self-acclaimed evangelist claimed Chinwo's dressings are not decent and too seductive for someone who sings Christian songs.
He added that her dressings don't represent that of a true Christian.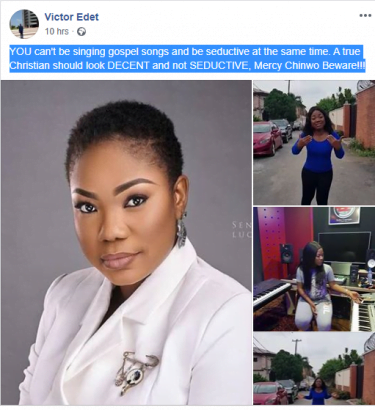 However, reactions on Twitter seem to disagree with the position of the evangelist about Mercy Chinwo.
See some of their reactions:
I can't believe that the person who dissed Mercy chinwo did that on Facebook, it was not even on Twitter or Instagram.
? Of all the social networks, he decided to drag her on that app. What an insult! ?Smh pic.twitter.com/z8FcGhSBgu

— Chinasa Ruth⚖️ (@ChinasaRuth) March 19, 2020
Mercy Chinwo dresses seductively? Lol, what did that guy smoke?

— ???-????? ?? (@Manlike_ED) March 19, 2020
I have met and spoken to this woman before I mean mercy chinwo and she's really a great person although I had issues with d manager but for u to say that about her eehn it's so untrue, so what about d international gospel artists like Tasha cobs that even wear ripped geans

— John (@Johnnie__boy) March 19, 2020
E tire me o .
And by the way ,who in Moses name is that Victor Edet dude?.Never heard of that one….and no,I will not search him on Google.
No time….
Meanwhile,shout out to Mercy Chinwo.
I love her music.
Rock on

— Jude Nicholas Ibemere (@nicholasibemere) March 19, 2020
She is beautiful, superbly talented, sings with the voice of an angel, glorifies God in both her music and dressing.

Dear Mercy Chinwo, we love and appreciate you ❤️

Thank you for always giving us soul lifting gospel songs. pic.twitter.com/WJsq46WskM

— Port Harcourt People (@AskPHPeople) March 19, 2020
"Mercy Chinwo" This Evagelist is a Rapist for calling out Mercy Chiwo. or did she email him nudes personally or just this pictures am seeing?? Odeh Evangelist
be acting like the road to heaven passes tru their compound… leave mama alone "Mercy Chinwo" pic.twitter.com/AoHXkqTiJy

— Aminu De Comedian (@AminuDeComedian) March 19, 2020
My reaction to this Mercy Chinwo dresses SeDuCtIvElY nonsense.

That man needs a brain check FR! pic.twitter.com/nA77SB9JZL

— AyobamiAbrahamKay (@Ayobamiosinusi) March 19, 2020
Evangelist Victor Edet be warned… Now Mercy Chinwo is Trending already, you can't drag her for nothing ? we coming.

Leave my Momma alone, I repeat. pic.twitter.com/DlLHrMhIFL

— DOWIE BLUE ?? #MrCoolGuy (@Infodowieblue) March 19, 2020