Details Of What Happened In Appeal Court Today Over Oshiomhole's Removal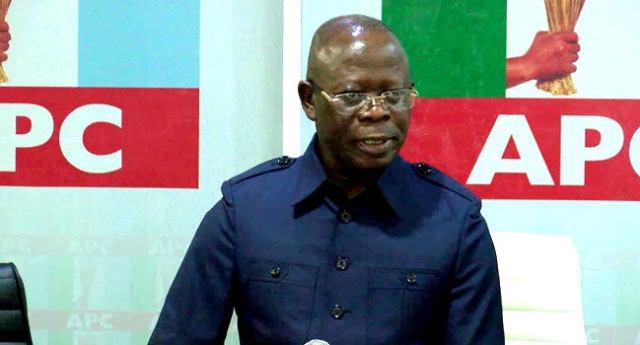 Parties were left shocked after the Appeal Court in Abuja on Monday did not hear the case by Adams Oshiomhole challenging his removal as the National Chairman of the All Progressives Congress (APC).
The hearing had earlier been scheduled for Monday, 16th March and all parties had arrived the court premises as early as 8 am, Naija News understands.
However, a panel of three Justices led by Justice Stephen Adah sat to hear other cases. The panel later rose, with a promise that another panel will be reconstituted to hear Oshiomole's appeal.
However, shortly after the Justice Adah panel rose, a female official of the court announced that the court has elected to hear Oshiomole's appeal on a later date to be communicated to parties later.
The announcement came as a shock to those who had stormed the courtroom for hearing on Oshiomhole's case.
The Nation reports that Oshiomhole and his supporters then met with their team of lawyers on what next steps to take after the stand of the Appeal Court was unveiled.
The embattled APC National Chairman, however, later told journalists as he exited the courtroom that he would await the court's decision in the case.
Naija News reports Oshiomhole had approached the appeal court after Justice Danladi Senchi of the FCT High Court, Jabi, Abuja restrained him from parading himself as the National Chairman of the APC.
However, about 24 hours after the Abuja court order, another court sitting in Kano ruled that Oshiomhole should remain in office and status quo be maintained.
Meanwhile, some leaders of the All Progressives Congress (APC) have identified a replacement for embattled National Chairman of the party, Adams Oshiomhole.
The APC leaders from the south-south zone have also insisted that the party's National Executive Committee meeting scheduled for Tuesday (tomorrow) must hold and also urged all members of the party from the six states in the zone to be in attendance.