Nigerians React To Senate's Plan To Ban Generators In Nigeria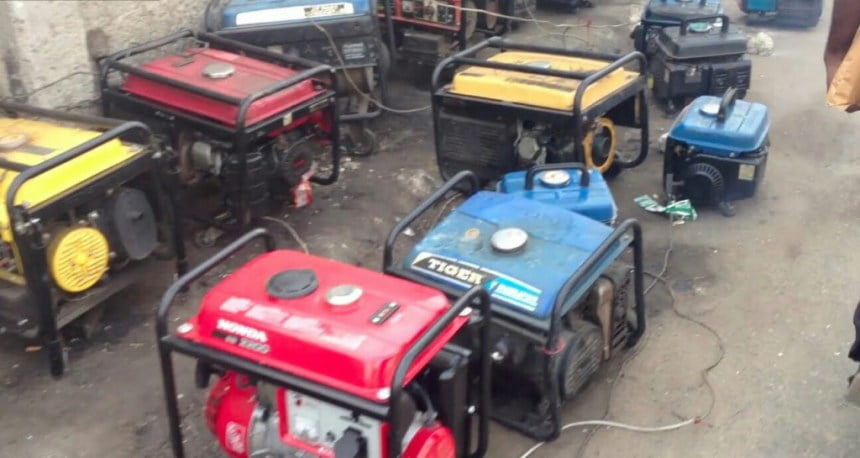 A storm of reactions by Nigerians has greeted plans by the Nigerian Senate to ban generators in Nigeria.
Naija News had reported earlier that a bill to ban the use of electricity generating sets in Nigeria passed first reading at the Senate plenary on Wednesday.
The bill, sponsored by Senator Bima Enagi representing Niger South, is proposing a ban on the use of electric generators in the country. The bill also seeks to ban the import of all kinds of generators into Nigeria.
This online news platform understands that the bill proposes a minimum of 10 years of jail term for anyone who imports or sells generators in Nigeria.
According to the bill, anybody who: "Imports generating sets; or knowingly sells generating sets shall be guilty of an offence and be liable on conviction to be sentenced to imprisonment for a term not less than ten years".
The bill added that all persons are hereby directed to "stop the use of electricity generating sets which run on diesel/petrol/kerosene of all capacities with immediate effect in the country".
Moments after the news broke, Nigerians took to the micro-blogging site, Twitter to react to the matter.
Naija News captured some of the reactions below…
A govt that can't provide 4 hours of power supply daily without interruption is planning to ban importation of generators.

History books must have a chapter on how APC led govt failed.

That history should be taught in our schools, we can't afford another generation of failures. https://t.co/nDbAEYfA2K

— Adetutu Balogun (Ezi Ada 1 of Diaspora) (@Tutsy22) March 11, 2020
Some of our lawmakers are doing very hard drugs, you can't be doing just hard drugs and propose a bill to ban generator in a country like Nigeria where we have one of the most terrible power supply in the world.

— Olúyẹmí Fásípè ?? (@YemieFash) March 11, 2020
Simple economics. When electricity became constant in Ghana, generator importation became senseless. Policies like this only questions our education system.

— DoeSir (@dosbeldot) March 11, 2020
They should start by banning the use of generators in all homes and offices of all elected and appointed government officials, from ward council counselors to presidential. That is what will bring real positive change and progress https://t.co/wT1w6kmSc5

— Olushola Olufolabi (@olushola_shola) March 11, 2020
Imagine a state with serious insecurity issues & people are being killed daily.

3 Senators elected to NASS from that state introduced:

* Anti-Social Media

* Anti Hate Speech

* Anti Generator

Northern elites are the problems
facing the people of the North!!!#NigerState pic.twitter.com/ESdl6iWD6x

— Adetutu Balogun (Ezi Ada 1 of Diaspora) (@Tutsy22) March 11, 2020
So many stupid bills getting introduced at our legislatures.

Just heard about a bill to ban power generators from the country, a country with a struggling power sector. Smh

— Johnny Drille (@Johnnydrille) March 11, 2020
This will only create a black market for generator.

If electricity is fixed in Nigeria, who will buy generator.

Waste of Bill https://t.co/OFUZqZQz4I

— Hamma (@HAHayatu) March 11, 2020
They want to ban generators??? Loool. This people will just wake up one morning and just look for ways to continue to make life difficult for Nigerians shaaa. This is just very sad.

— Ada~beke??✨ (@blvck_Witch) March 11, 2020
Is this generator ban bill not a ploy to distract us from the obnoxious SM gag bíll or other obnoxious bills under consideration? pic.twitter.com/MRjLdXqpob

— Mr. 'Dipo ?? (@edoyakulo) March 11, 2020
What is this I am hearing of a generator bill? Can someone please explain?

— RUGGEDMAN (@RuggedyBaba) March 11, 2020
Download NAIJA NEWS app: