Nigerians React As Teddy A And BamBam Welcome Baby Girl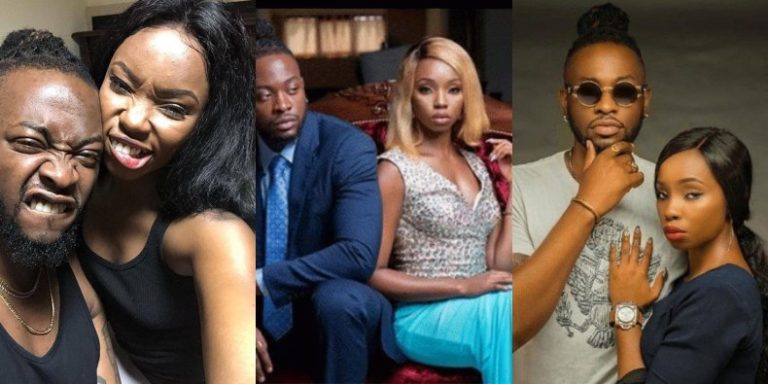 Naija News reported earlier that Big Brother Naija couple and former housemates in the popular Big Brother Naija reality TV show, Teddy A and Bam Bam have confirmed the arrival of a baby girl.
The good news was made public by Teddy A who took to his Twitter page in the early hours of Thursday, March 5, 2020, to announce the good news.
Meanwhile, Nigerians have taken to Twitter to react to the news.
See reactions below:
I'm just imagining Big brother crying tears of joy cos of #BamTeddy's baby arrival??❤️❤️❤️ pic.twitter.com/5DkNG6dase

— New week, New Me?? (@Fawzie_brown) March 5, 2020
#BamTeddy
Congrats my bamteddy ? love is not by choice …. Wish u all the best ?? pic.twitter.com/JStfTmX00F

— ?Last Born ❤ (@victorjoe087) March 5, 2020
Congratulations to #BamTeddy
But please allow we the local people to be calling Zendaya SINDARA
? pic.twitter.com/qkU1YuqWl3

— Big Uncle ?? (@Usmanashafe) March 5, 2020
The well of love that can be found in our heart (if we choose to find it) is bottomless. A little smile would cost you NOTHING but by it, you could be giving someone EVERYTHING. #Bekind #Lydiasnuggets
P.s Congrats #BamTeddy ??? https://t.co/w5i5W0ll5j

— Aliegwu Lydia (@lydia_aliegwu) March 5, 2020
Sweetness!!! Honestly I'm beginning to love the idea of getting pregnant before wedding. This is just perfect.
Congrats Bam Bam and Teddy A on the arrival of Princess Zendaya Folakemi Adenibuyan??❤?! May God continue to bless your home❤?? #BamTeddy pic.twitter.com/xm34lgQ8pM

— L A B B Y MEDIA (@labbymedia) March 5, 2020
Dear #BamTeddy
I'm so happy for the incoming of a bouncing baby girl into your lives. Please kindly allow fourth class guys to date your daughter when she grows up… Please think about it! pic.twitter.com/sGOC81PY2I

— OWNER of ??(Uyo Son) HypeMan (@iam_countryman) March 5, 2020
Lemme be cooling with this one coz I know they won't show us baby #Zendaya now #BamTeddy pic.twitter.com/TOw7evomZw

— Zendaya's aunty (@MomoBoma83) March 5, 2020
Big congrats to Bam Bam ,at first people thought the ship won't sail! From the Toilet in BBHouse to Dubai for Honeymoon and there they are welcoming a beautiful baby girl! I STAN legends ?? #BamTeddy pic.twitter.com/zqkfcBVHXb

— ~Isaac Dê Psychic~ (@IsaacIsPsychic) March 5, 2020
#BamTeddy Congratulations bambam and teddy A? you can fine love anywhere pic.twitter.com/caWyys5LzT

— Omashola? (@EgbewumiKemi) March 5, 2020
So sweet to hear this #BamTeddy congratulations to my favorite house mate.❣️ The queen has given birth to her princess ?

I hope Mercy and Ike can end up like this too? pic.twitter.com/iTDlJ4b6Iv

— Tiwatope? (@TiwatopeTemmy) March 5, 2020
Congratulations to Bam Bam and Teddy A on the arrival of their baby girl Zendaya

❤️#BamTeddy pic.twitter.com/bL92YxbwvV

— BayoOfLagos (@BayoOfLagos1) March 5, 2020
Download NAIJA NEWS app: