Nigerians React As Court Suspends Oshiomhole As APC Chairman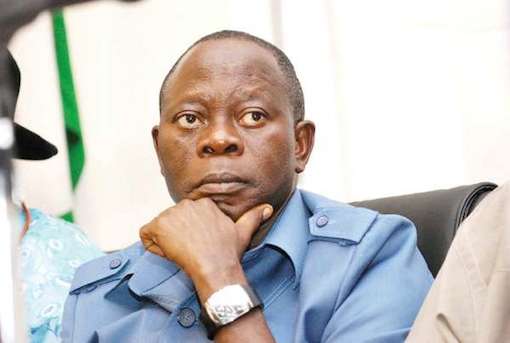 The recent suspension of the National Chairman of the All Progressives Congress (APC), Adams Oshiomhole by a federal high court in Abuja has generated several reactions on twitter.
Naija News reports that Justice Danlami Senchi, who gave the ruling on an application for an interlocutory injunction earlier today held that Oshiomhole should cease to occupy the position pending the determination of the substantive suit.
Justice Senchi was of the view that the APC was wrong for retaining Oshiomhole as its National Chairman even when he is under suspension as a member of the party.
The judge ordered Oshiomhole to stop parading himself as the National Chairman of the party and directed the party to cease acknowledging him in that regard.
Justice Senchi restrained the party from allowing Oshiomhole to access the party secretariat henceforth
Meanwhile, the new development has generated several mixed reactions on twitter as some people felt the verdict was unfair and the court as no power to give such a verdict.
Here are the reactions below
Court suspends Oshiomhole as APC chairman
…
I'm beginning to think the Courts are assuming the powers they don't have. Judges will soon start arrogating to themselves the powers to appoint party chairs. The powers to discipline party officers are internal displinary mechanisms!

— El Commandante® (@MrLekanAdigun) March 4, 2020
What is business of court in party chairman, this dirty dirty politics has been beyond border

— Blessed child 🙏 (@MoraOgo) March 4, 2020
Judicial rascality is on the rise. I tell you.

— mark abiodun (@Sijibomi764) March 4, 2020
Even if someone brings a case before them, if they don't have powers over such they should say it

— El Commandante® (@MrLekanAdigun) March 4, 2020
APC former chairman Adams Oshiomhole will surely Appeal the High court judgement and he will resume as chairman until the court rules otherwise. It can end at the Supreme Court. Status quo will remain

— ԀЄMıҠҺѦʏ (@infonaija_247) March 4, 2020
While Others believe Oshiomhole was guilty and should be suspended. Here are the tweets supporting the federal high court's verdict
The moment he was suspended by his ward, he lost the power yo parade himself as the national chairman. The court merely rectified that suspense and by your Constitution, whoever that is suspended by his/her ward remains suspended. Like Oshomhole will say "All politics is local"

— Ozo Nna Nyere Nwa (@nwa_anambra) March 4, 2020
Oshiomole ti wa te finally

— Toye Oando (@Toyestic1) March 4, 2020
By the way y'all should not forget that Chief Justice Adams Oshiomhole will still give his own version and explanation of the judgement.😂😂
He still no go gree.😂😂 pic.twitter.com/LcpdVseyfo

— Oloye Ayo Gbadebo (@holudaray) March 4, 2020
Godwin Obaseki to the federal high court concerning Adams Oshiomhole suspension as APC's chairman. pic.twitter.com/nOmhSE5JG1

— Da Mayor of Tweet City 🌎 (@iam_damayor) March 4, 2020
Oshiomhole is back to square one. pic.twitter.com/nsfFcMzGmV

— Ayemojubar (@ayemojubar) March 4, 2020
---
---
© 2023 Naija News, a division of Polance Media Inc.