Breaking: Supreme Court Gives Final Verdict On Imo Governorship Election Dispute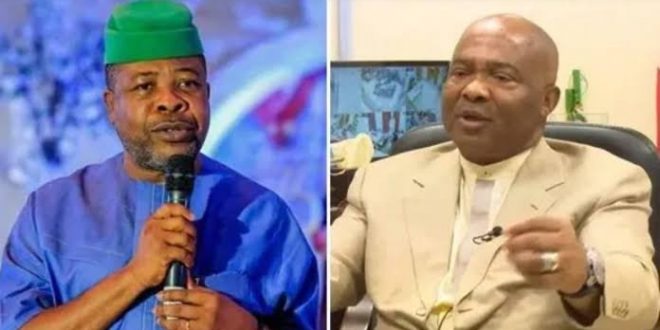 The Supreme Court on Tuesday, delivered a final judgment on the 2019 Imo State governorship election dispute between the APC and PDP.
The apex court delivered its judgment after hearing arguments from all parties involved in the case instituted by the sacked Governor of Imo State, Emeka Ihedioha asking the court to review its judgment which sacked him from office and installed Hope Uzodinma of the APC.
In its ruling, the Supreme Court dismissed the appeal by Ihedioha and the PDP asking it to review its verdict which sacked him as the Imo State governor for lack of merit.
The apex court said there is no constitutional provision for setting aside an earlier Supreme Court judgment.
"The verdict of the supreme court is a finality," the panel submitted.
With Tuesday's ruling, Senator Hope Uzodinma has been confirmed as the authentic governor of Imo State.
Earlier, while presenting their cases, counsel to Ihedioha and his party, the Peoples Democratic Party (PDP), Kanu Agabi (SAN), prayed the court to set aside its January 14 judgment and restore the judgement of the Court of Appeal that gave victory to Ihedioha, which the Supreme had voided.
On his part, lawyer to Uzodinma of the All Progressives Congress (APC), who benefitted from the Supreme Court ruling in Imo State, Damian Dodo (SAN) prayed the court to retain its judgment and throw out the request by Ihedioha.
Naija News reports the seven-man panel of the court was led by the Chief Justice of Nigeria (CJN), Justice Ibrahim Tanko Muhammad.