Security Beefed Up In Kuje Prison Because Of Metuh, Dariye And Orji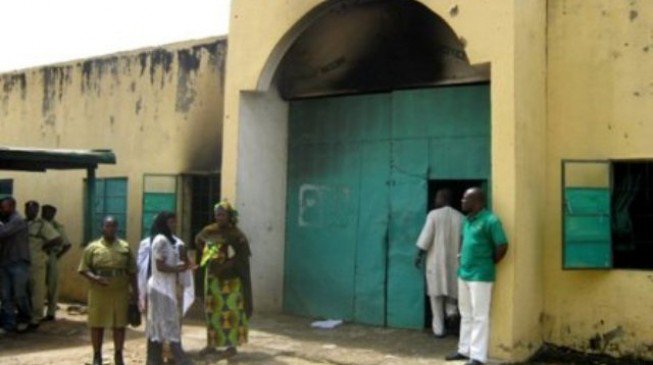 Authorities at the Nigeria Correctional Services are leaving nothing to chance in the Kuje Correctional Centre in Abuja because of some high profile arrivals at the facility.
To this end, Naija News understands apart from the normal security processes, additional security measures and protocols have been put in place at the facility.
The list of high profile persons currently serving time in the facility includes former Plateau State governor, Joshua Dariye, former Abia State governor, Orji Uzor Kalu and most recently, former National Publicity Secretary of the PDP, Olisa Metuh.
The hint of additional security measures put in place at the Kuje facility was dropped by the Comptroller General of NCS, Ja'afaru Ahmed on Wednesday during a three-day National Workshop on Welfare/Insurance Scheme for Officers of the NCS across the country.
Ahmed noted that though there were no security challenges at the moment as his men were up to the task, the service is leaving nothing to chance.
He also stated that the proximity of the Kuje facility to the Abuja courts where the convictions were handed down on the accused persons could be responsible for the facility hosting them.
He said, "The trials are taking place here in Abuja and the nearest custodian centre you have is Kuje custodian centre, so the warrants say Kuje custodian centre; therefore, it is not for me to say go away or decide for the judge where he should commit them to. They are committed to Kuje custodian centre and that is how it is.
"We have our own internal way of ensuring their security and whatever and we will definitely look into all issues regarding them. We have our rules regarding any form of visit to them and our rules are being obeyed and we will continue to give opportunity for people."
The CG added that though family and lawyers will be allowed to see the convicted persons, no special consideration will be allowed because of their status in society.
He said, "Remember that most of them are also going on appeals, some their appeals have been exhausted up to Supreme Court and others will still go up to that level. So, we will allow their lawyers and family members to come and see them to interact.
"But it will be conducted within the rules because the service had its own standing orders and every correction officer knows the procedures of conducting visits for both convicts and those awaiting trial."
The workshop had as its theme, 'Planning for the Rainy Days through Skill Acquisition and Entrepreneurship for self-sustenance."
Source: Naija News