Kano Govt Plots Fresh Move Against Emir Sanusi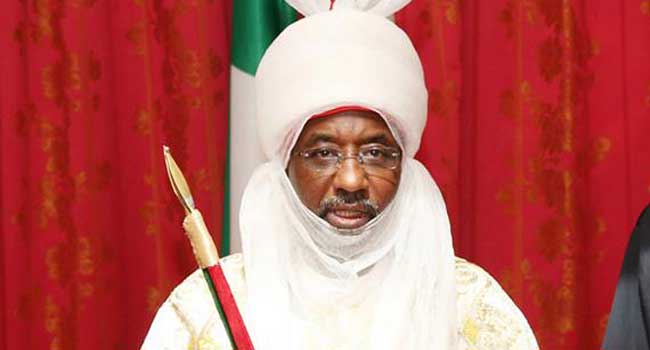 The Kano State Public Complaints and Anti-corruption Commission have said it is weighing its options against Emir of Kano, Muhammad Sanusi II.
Naija News recalls that the Kano State High Court presided over by Justice Suleiman Baba Na Mallam, had last Wednesday, restrained the agency from further releasing any indicting report against Emir Sanusi.
Justice Baba Na Mallam had granted leave for Emir Sanusi's counsel, Suraj Sa,ida (SAN) to present an ex-parte application, which sought the court to restrain the anti-corruption agency from continuing with its investigation against Sanusi over the alleged misappropriation of over N3.5 billion fund.
The money allegedly misappropriated by Emir Sanusi was said to have been appropriated to the Kano Emirate council by Kano State Government.
Recall that the Emir of Kano had asked the State High Court to dismiss a report made by the chairman of Kano State Anti-corruption Commission, Muhuyi Magaji Rimin Gado, which alleged that the Emir embezzled over N3.4 billion.
In another ruling, last Friday, Justice O. A. Egwuatu of the Federal High Court in Kano, dismissed the preliminary report of the commission which recommended the suspension of Emir Sanusi pending investigations into alleged financial misappropriation of the emirate's account.
Reacting to the court judgements in a statement on Monday, the Commission Chairman, Muhyi Magaji-Rimingado, said the anti-corruption agency had received copies of the ruling.
He said having studied the ruling, "it is our understanding that the Honourable Court presided by Justice O.A. Egwuata did not stop the Commission from further investigating the case and or submitting a report after hearing from the Applicant.
"Consequently, the Commission has two options for consideration: Firstly, to appeal the judgment as there are numerous grounds of appeal.
"Secondly, continue with the investigation since the case has been decided and invite the Emir in compliance with the Court ruling."
"The Commission is exploring suitable options available at its disposal as the matter is still under investigation," Magaji-Rimingado added