Angry Mob Sets Four On Fire Over Ritual Killing In Edo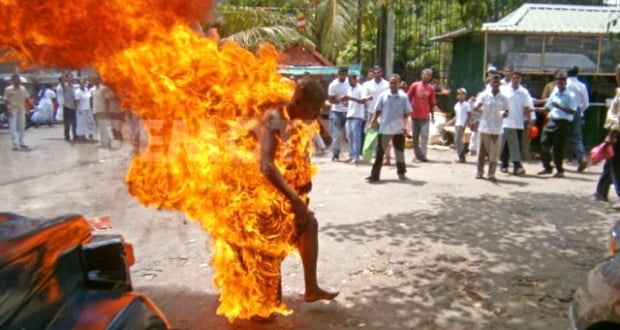 Reports reaching Naija News at this time reveals that there was an uproar at a village in Owan East Local Government Area of Edo state on Monday, following the murder of a young girl who was reportedly beheaded for ritual purpose.
According to a source in the Otuo community in a chat with newsmen, some four young men were set ablaze for alleged involvement in the killing of an SS3 Secondary Schoolgirl of Azama College, Otuo.
The source whose identity was not given due to security purpose reveals that the child's head was cut off at night hour by the culprits while she was on an errand by her neighbour who sent her to get him sachet water.
Naija News understands that she was murdered at the point of delivering the sachet water.
It was said that the girl's parents cried out after they could not find their daughter, but that the culprits were nabbed while making moves to dump the victim's body before the rising of the sun of the next day.
Further information revealed that two out of the four culprits were identified, including the woman who is to perform the rituals for them.
The source said, "The two men were burnt this morning (Monday) along with the woman, while her house was razed. They were all dragged to the popular Women Centre where the community police station is located. The third man was traced to his farm and apprehended,"
However, after the arrest of the culprits, furious residents set the young men on fire.
Meanwhile, a confirmation from the state Police Public Relations Officer, Mr Chidi Nwabuzor, mentioned that only two of the suspects were burnt alive.
"The command is aware that a young girl's head was cut off and the youth of the community arrested two suspects, brought them to the front of the station and set them ablaze," he said.