Nigerian Governors Cries Out Over Depletion Excess Crude Account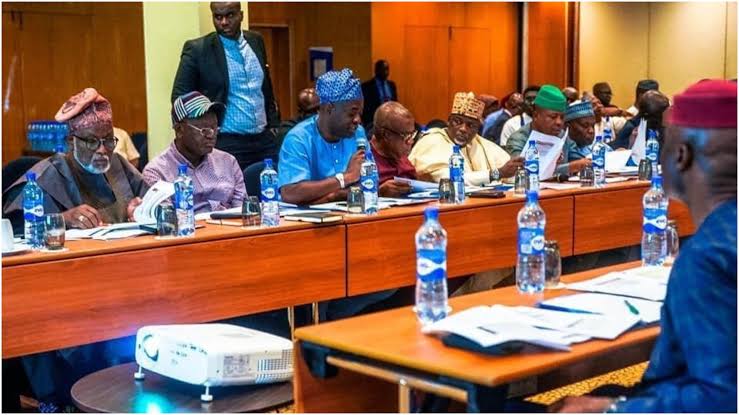 The depletion of the Excess Crude Account (ECA) has become a subject of huge concern for the  Nigerian Governors Forum headed by Kayode Fayemi.
Naija News understands that the governors expressed shock that they were neither consulted nor informed as stakeholders on what warranted the withdrawal from the ECA, which was suddenly depleted from $325million to $70million in one month.
The ECA matter and the deepening insecurity will be part of the agenda of the National Economic Council (NEC) meeting on Thursday as It was not clear if the governors will stick to their position that President Muhammadu Buhari should rejig the security architecture or adopt the President's decision to retain the Service Chiefs.
A governor, who spoke in confidence, said: "The governors are going to the NEC meeting with three issues bordering on security, ECA and reconciliation of oil revenue and allocation."Most of the governors are in favour of the change of guards in the military to allow for fresh ideas. But the President seems to have some intelligence at his disposal which has made him retain the Service chiefs.
"The governors have been very careful in their position on the continuous stay in office of Service Chiefs but said, "the reality is that things (strategies) are not working".
"We are ready to go to NEC with new ideas on how to address the increasing security challenges at hand. The President is not bound by our advice but we do not want the situation to get worse."Being a sensitive matter, we will discreetly make our recommendations to the President on the way forward. It is indisputable that we need fresh ideas in managing our security architecture."
On ECA cash, another governor said: "Certainly, we want NEC to address this depletion of ECA Account from $325million to $70million in one month because we were not consulted.
"We will expect the Federal Government to lay the cards on the table at the NEC session. There is no way the Federal Government can withdraw from ECA without the permission of stakeholders, especially states. "We want to know why they depleted the account and what went wrong. Some commentators have started blaming state governors without knowing that we were not aware of the huge depletion within a month.
There were indications at the weekend that the much-awaited new revenue allocation formula might not be in place soon.