Nigerians Believe You Are Been Overpaid For Little Work – Buhari Tells National Assembly Members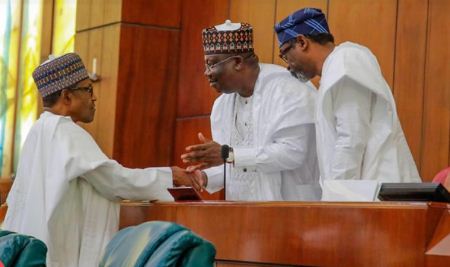 President Muhammadu Buhari has told lawmakers in the National Assembly that they need to do more to correct the negative perception Nigerians have about them.
The President noted that though he understands the massive workload of the lawmakers, Nigerians believe they are not doing enough to justify their pay.
He, therefore, urged the lawmakers to fashion out ways of correcting these impressions on the mind of Nigerians.
Buhari said this yesterday at the National Assembly complex during the launch of the Green Chamber Magazine by the House of Representatives where he was represented by Minister of Information and Culture, Lai Mohammed.
He commended the introduction of the magazine which he noted will go a long way in correcting the negative perception of Nigerians about the National Assembly members.
"Hitherto, the public perception of the National Assembly is that of a bicameral legislature where overly comfortable and highly over-paid members merely stuff wads of currency notes into their pockets for little work done.
"This wrong perception has resulted partly from the lack of understanding of the enormous work of lawmakers, especially outside the glare of television cameras," he said.
He emphasized that the magazine would give the public access to correct information about the National Assembly and its activities.
"Including the enormous work that goes into the passage of a bill as well as committee duties. In addition, it will help the house to tell its own story, rather than relying on others to take charge of their narrative. It is said that no one can tell your story better than you," he said.
Patrick Lumumba, the Director, Kenyan Law School, who also spoke at the event urged the lawmakers to live up to the expectation of 'honourable members.'
"Now that you have been given the honour and privilege of serving Nigeria, now that Nigerians and Africans refer to you as honourable members, the question is: are you honourable members or horrible members? "The question as to whether you are honourable members is determined by the service that you render to the people," he said.