Nigerians React As EFCC Boss, Magu Links Coronavirus With Corruption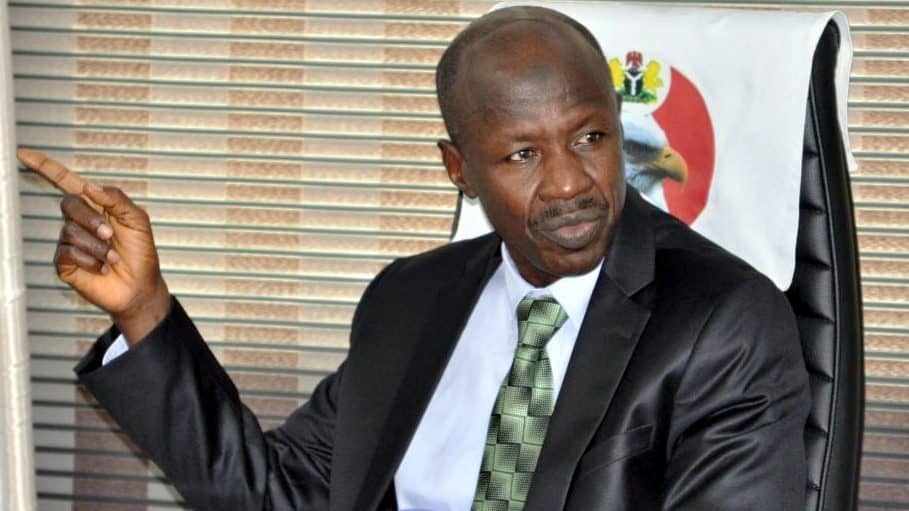 Nigerians have taken to Twitter to voice their reactions after the acting chairman of the Economic and Financial Crimes Commission (EFCC), Ibrahim Magu linked the deadly coronavirus to corruption.
Magu who spoke on Tuesday at the passing out parade of 281 cadets of the EFCC Detective Inspector Course-5, at the Nigerian Defence Academy, said social vice is worse than any known disease.
In his words, "The EFCC is not satisfied with just prosecuting and jailing the fraudsters, rather the commission has concluded plans to reform them in collaboration with relevant government agencies towards making them better citizens."
"EFCC has zero-tolerance for corruption as our mandate is to kill corruption as corruption is worse than all the diseases we have now and I strongly believe coronavirus is caused by corruption.
"Corruption is a huge burden to our nation it has spread to insecurity, poverty, unemployment, falling standard of education, weak access to affordable health care, falling infrastructure and so many others."
Watch the video below:
CoronaVirus is caused by corruption – EFCC Boss Magu.
You elect quota system products and you expect Nigeria to be globally respected.
Nigeria is a global laughing stock and African Ant ruled by incompetent quota system people whose secondary school cut off marks are 5/300. pic.twitter.com/oGqdODKtt5

— PROF. DANGOTE SIDE CHICK (@honilatte) February 18, 2020
Naija News reports the EFCC in reaction to the Twitter reactions noted that Magu was quoted out of context.
This information is false and misleading.

The Acting Chairman said, "Tackling corruption is a clarion call, given that corruption is a huge burden to the nation. It is worse than Cancer, Ebola Virus, Coronavirus and all other deadly diseases put together."

Correct this, please! https://t.co/pJgmGsZain

— EFCC Nigeria (@officialEFCC) February 18, 2020
And see some of the reactions from Nigerians:
Since we all have agreed that Corona Virus is caused by Corruption, when are we sending Magu and his boys to China to save the world like Captain America.

— Mazi Waltz (@EduWaltzChuka) February 18, 2020
IGP Idris :Transmission-transmission
Mr.Magu: Corona Strategy/ causalities
Major General Buhari has a totally terrific team. No wonder they excelling in discharging their duties. Sai Baba!

— John Danfulani (@john_danfulani) February 19, 2020
"Your Excellency, corruption is the biggest strategy to humankind."

"…and I strongly believe, Your Excellency that Corona virus is caused by corruption". – EFCC Boss, Magu 2020

Whoever employed the writer of this speech is even corrupt.

— Henry O (@onos_147) February 19, 2020
Coronavirus is caused by corruption – Magu. 😲😳

What! Funke! 🤣😂 pic.twitter.com/G20kEKvcPc

— Ayemojubar (@ayemojubar) February 19, 2020
How is corruption the greatest strategy to mankind? Uhn?😩
Is corruption the cause of Malaria too?
Life have spoil oloun#Magu #EFCC pic.twitter.com/n3GzcoaJlF

— ELIZABETH (@ElizabethGift3) February 19, 2020