Assault An Amotekun Officer And Pay N250,000 Fine Or A Month In Prison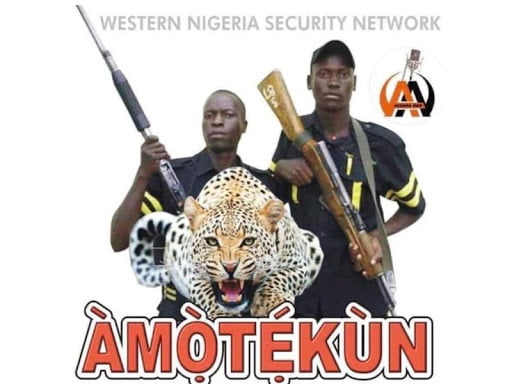 A part of law included in the bill of the embattled South-West Security outfit, nicknamed 'Operation Amotekun', has been leaked out on Wednesday.
Naija News recalls that Governor Kayode Fayemi of Ekiti State has disclosed on Monday that law giving legal backing to the establishment of Amotekun will be made public on Friday, February 4.
Fayemi had noted that the law on Amotekun is part of the agreements reached by the state governors and the federal government over the setting up of the Amotekun outfit.
However, in a report given on Wednesday, it was revealed that one of the laws contained in the 'Operation Amotekun' bill includes a payment of fine amounting to N250,000 or a month's prison term or even both for anyone who assaults an officer of the security outfit.
It further reveals that an official of the security outfit can also not be sued for any action taking while carrying out his duty, but will only be queried base on what he does in his personal interest outside the operation.
Naija News understands that the law was included into the Ekiti State Security Network Agency Bill 2020, now passed to the desk of the Ekiti State House of Assembly.
Meanwhile, other state governours in the South-West have reportedly submitted the same bills to their respective houses of assembly as regards the 'Operation Amotekun'.
Part of the bill reads;
"Any person who willfully hinders, delays, obstructs or assaults a member of the Ekiti State Amotekun Corps in the course of the exercise of his lawful duties under this law shall be guilty of an offence and liable on conviction to imprisonment for a term of one month or to a fine not exceeding two hundred and fifty thousand naira only (N250,000.00) or to both such fine and imprisonment."
Source: Naija News