Nigerians React As Lai Says NTA will Compete With CNN Soon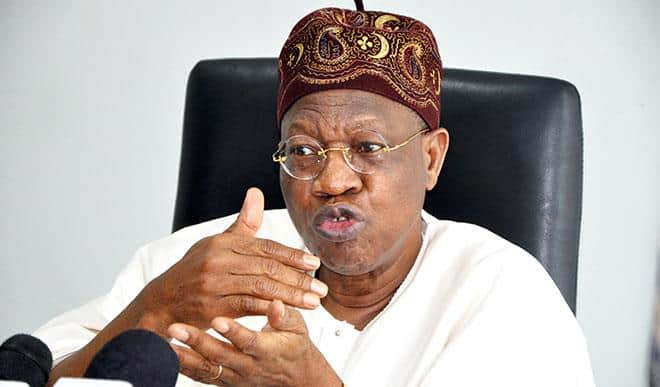 Nigeria's Minister of Information, Alhaji Lai Mohammed says the Nigeria Television Authority (NTA) will compete favourably with the likes of Cable News Network (CNN) if the $500 million loan his ministry is seeking is approved.
The Minister was quoted by The Guardian to have said this when he appeared before the senate committee on local and foreign loans.
Naija News understands the $500 million loan request is part of the $30 billion loan request sent to the National Assembly for approval by President Muhammadu Buhari last year.
The Minister said with the financial backing, NTA will be able to invest on digitalized equipment and necessary manpower.
"If this project is approved, there will be more visibility for our people in the music, fashion and film industries," he said.
"In 2014, we made $23 million from music alone and about $53 million in 2019 and we are looking forward to making $83 million in 2025.
Meanwhile, the statement of the minister has generated several reactions. Here are the reactions as follows
Lai Mohammed wants to transform NTA with $500m, so he can be telling more lies on NTA.

— Susan (@addorablesusan) February 10, 2020
My uncle from kwara state, uncle Lai Mohammed said he needs 180billion fucking naira to compete with CCN, can you see that this cause for alarm. https://t.co/JZjdI5RBUA

— ALIU B. JABATA (@Bolajabata) February 10, 2020
Lai Mohammed said NTA would compete with CNN. American journalists will be where the fight is happening but my naija people na Japa !!! ?

— ?????ℝ ?? ℝ???? (@im_braidy) February 10, 2020
I totally agree with Lai Mohammed that NTA would compete with CNN .Is it not the same Lai Mohammed that said we would fight Israel ? ?

Let's start by changing the soundtrack of Network news
what's pa pa pa…pa pa pa pa . Pararaan pararraaaann … para pa pa pa Pam . Param Pam

— Mayor of Port Harcourt ??✴? (@SnrBillions) February 10, 2020
The year is 2020 and Lai Mohammed still hasn't changed with his lavish talks.
Which country in their right senses will approve $500m to transform any of their TV stations?
I know our politicians are slow upstairs but he really must be joking to put NTA & CNN in the same sentence

— Sui_Fernandes (@Official_Oreva) February 10, 2020
Uncle Lai Mohammed,

Why should there be NTA stations in all states in Nigeria.

As much as it is to create job opportunities, it is not sustainable.

Why not have a massive base station in Abuja, one sub station in each geopolitical zones and correspondence in each states.

— Tosin Olugbenga (@TosinOlugbenga) February 10, 2020
When these idiots want to borrow money for looting they mention it in USD but when they want to tell you that your minimum wage has been increased they mention it in Naira. Now do you know that $500,000,000 is more than N125,000,000,000
Lai Mohammed

— Kingkachi (@Kingkachi5) February 10, 2020
Make Lai Mohammed just borrow dt money use am buy small chicken share give everybody for the country make dem dey train their thing small small, becus, even if you hand them the entire US budget, so long as say na still NTA-Northern Television Authority, nothing go still change

— PatoG (@Patogist) February 10, 2020
Lai Mohammed is right, NTA has gadgets more than any TV station in Nigeria, but first they need to sack the graphic artists, directors, all those old presenters and boring anchors, change all those nonsense programs. It is very possible, only when there is no @MBuhari

— Ekwensu Ocha (@ChetachiDavids2) February 10, 2020
Source: Naija News