Biafra: What Amotekun Has Done To The North – Nnamdi Kanu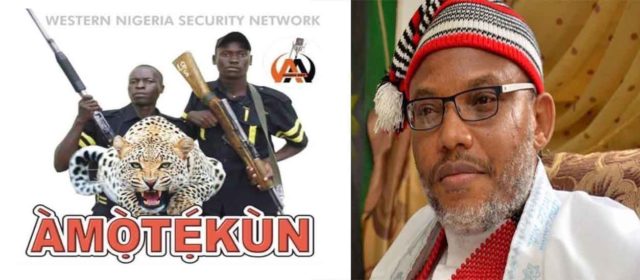 The leader of the Indigenous People of Biafra (IPOB), Nnamdi Kanu, says the launch of Amotekun, a region security outfit established by Southwest governors has raised fears
Naija News reports that the statement of the IPOB leader is coming after he vowed to support the newly established South-west security outfit with one million men.
This online news platform recalls that governors from Oyo, Ogun, Osun, Ondo, Ekiti, and Lagos States had in Ibadan, the Oyo State capital established the security outfit.
The southwest governors explained that Amotekun was established to tackle the issues of insecurity in the Southwest.
But the Attorney General of the Federation and Minister of Justice, Abubakar Malami, had asked south-west governors to disband the security outfit.
Malami said that no other authority at the state level, whether the executive or legislature has the legal authority over defence.
"The setting up of the paramilitary organization called "Amotekun" is illegal and runs contrary to the provisions of the Nigerian law.
Reacting to the AGF's statement, Kanu had said that the: "IPOB will back AMOTEKUN Security Outfit. AMOTEKUN is not going anywhere. They are here to stay and IPOB will support them."
Reechoing his support for the security outfit during a live broadcast monitored by this reporter, Kanu said the establishment of Amotekun has "destroyed the northern divide and rule policy."

His words: "I read an article by a young man that Igbos and Yorubas are the problems of Nigeria, the article said if Igbos and Yorubas work together they will get what they want and I agree with him. With the launch of Amotekun, we have destroyed the northern divide and rule policy."