Nabbed ATM Thief Reveals How He Stole Millions From Victims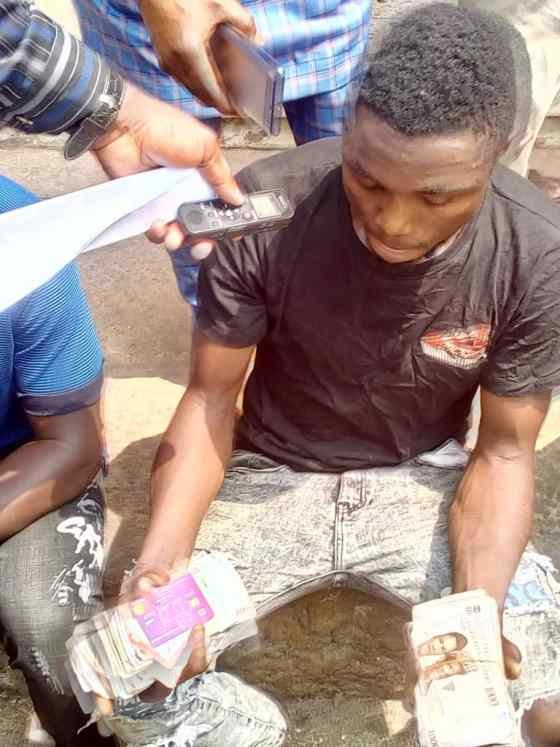 An ATM thief has run out of luck after he was nabbed by some team of Police officers in Edo State for stealing a huge sum from an innocent fellow.
According to the report which was confirmed by the Edo State Police Command, a middle-aged man, Adetunji Adesina was arrested for illegally cashing away a sum of N678,000 from his victim Ehitomwan Aghama.
It was said that no fewer than 10 ATM cards from various banks were found with Adetunji after he stoled the huge sum from Aghama who he met at the ATM facility belonging to one of the new generation banks in Sapele Road, Benin City.
Confessing to the incident, Adetunji said that he had acted like he wanted to withdraw money and distracted his victim by dropping his mobile phone on the floor before he engaged in the act.
He said; "My name is Adetunji Adesina, I am from Oshogbi in Osun State, I met Aghama at the ATM machine of the bank (name withheld) in Sapele Road, I behaved as if to say I wanted to use the ATM machine, then deliberately dropped my phone on the ground, in pity he wanted to help me with the phone.
"I punched the cardless button on the ATM machine. He was, unaware that I pressed the cardless button, so he thought his card was stuck in the machine and went to seek help from bank workers. At that point, I removed it from the cardless transaction and removed his ATM card."
"I got his ATM pin number when I was pretending to help him, I later withdrew 678,000.00 from his account, using the ATM, and POS (Point of Sales) before I was arrested by the Police."
The victim, Aghama while speaking to newsmen said that he was surprised to see that N20,000 had already been withdrawn from his account after he went to the bank to make a complaint of his ATM card getting stuck in the machine.
"N600,000 which was paid into my account by my brother who stays abroad was also withdrawn by the suspect as I had yet blocked the ATM card," he said.
Naija News learned that Aghama got contacted by the police after they arrested the suspect during a night patrol.
This was coming a week after Naija News reported that two ATM of a bank (name withheld) in Kwara State was vandalized by unknown hoodlums, who also set the machine on fire.