Reaction Trails U.S Senate Decision To Acquits Trump Of Impeachment Charges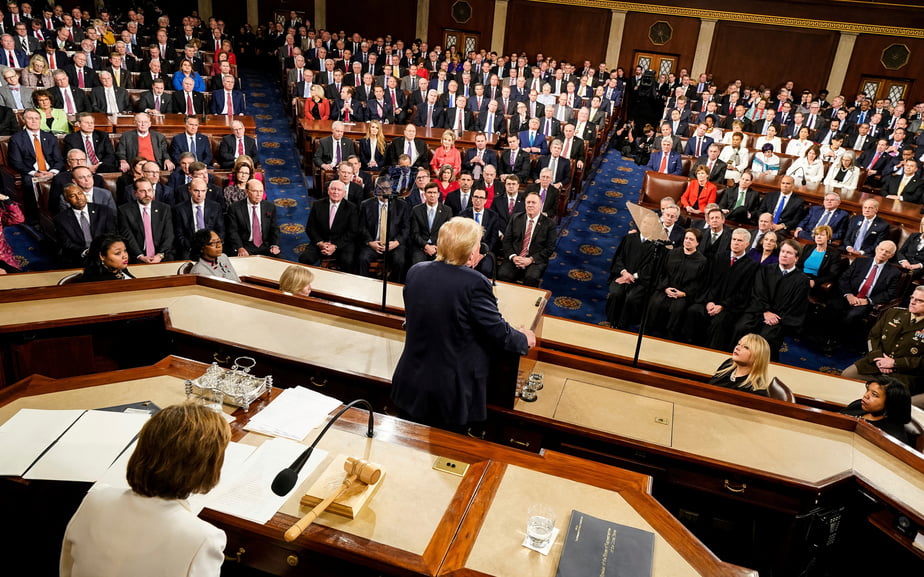 The President of the United States of America, Donald Trump has been acquitted of charges leveled against him by the House of Representatives.
Naija News had earlier reported that the House of Representatives in December 2019 impeached Trump for Abuse of Power and Obstruction of Congress.
On Wednesday the Republican voted in favour of Trump, with the vote on Abuse of Power standing at 52-48 and Sen. Mitt Romney was the only Republican to vote to convict Trump.
However, Trump has reacted to the victory and decision Mitt Romney to vote for his impeachment. In his reaction trump described Mitt Romney as a failed and angry presidential candidate. here is Trump reaction below
Had failed presidential candidate @MittRomney devoted the same energy and anger to defeating a faltering Barack Obama as he sanctimoniously does to me, he could have won the election. Read the Transcripts!

— Donald J. Trump (@realDonaldTrump) February 6, 2020
Meanwhile, the action of the United States senates has generated a reaction on social media. Here are the reaction as follow.
I will be making a public statement tomorrow at 12:00pm from the @WhiteHouse to discuss our Country's VICTORY on the Impeachment Hoax!

— Donald J. Trump (@realDonaldTrump) February 5, 2020
— Rhonda Harbison (@rhonda_harbison) February 6, 2020
You. Are. Not. America.

You. Are. Impeached. Forever.

— Jay Lionel (@JayLionel7) February 5, 2020
— BookHoarder ??? (@DeniseG53) February 5, 2020
Really. Nepotism. Obstruction. Collusion. Article 25. Make sure you touch on all of America's concerns pic.twitter.com/L3mpnccywO

— whamish2.0 (@wisconsinvotes1) February 5, 2020
Right on !!! Your coverage on sanctuaries thank you , thank you , I took my case all the way to olimpia, gov,a hole my mayor of my city , my son , opioids,from illegals,flooding in selling,fenynol, wife turned alcohol, tried get help , lost bussiness, stress,corruption!thankyou?

— jesse Elder (@jesseElder20) February 6, 2020
Trump used his power as President of the United States to suppress all witnesses and evidence from being presented. He has demonstrated that certain people are above the law in our country–setting a dangerous precedent moving forward where presidents are more like kings.

— Eugene Gu, MD (@eugenegu) February 5, 2020
You're still impeached, loser.

— Polly Sigh (@dcpoll) February 5, 2020
Source: Naija News