Breaking: INEC De-Registers 74 Political Parties (Full List)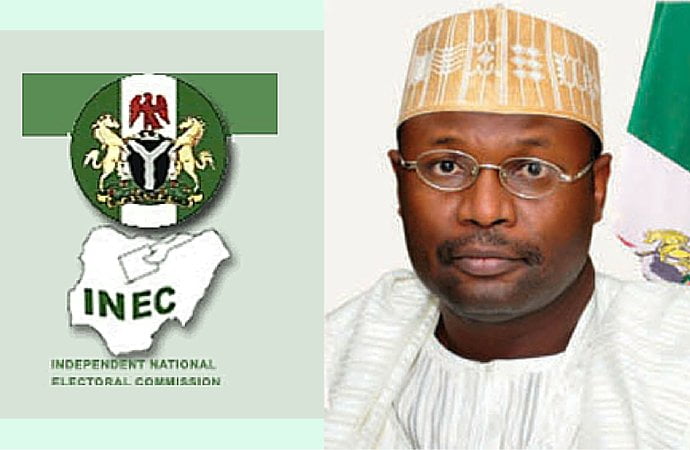 Nigeria's electoral umpire, the Independent National Electoral Commission (INEC) has deregistered 74 political parties in the country.
This was disclosed on Thursday by INEC Chairman, Prof. Mahmood Yakubu at a news conference in Abuja.
He noted that the action taken by the commission was in line with the Constitution of the Federal Republic of Nigeria as well as the Electoral Act 2010 (as amended).
Nigeria had a total of 92 political parties before the action taken by INEC, meaning Nigeria now currently has just 18 registered political parties.
The 18 parties that scaled the hurdles are:
1.
Accord Party
A
2.
Action Alliance
AA
3.
African Action Congress
AAC
4.
African Democratic Congress
ADC
5.
African Democratic Party
ADP
6.
All Progressives Congress
APC
7.
All Progressives Grand Alliance
APGA
8.
Allied Peoples Movement
APM
9.
Labour Party
LP
10.
New Nigeria Peoples Party
NNPP
11.
National Rescue Movement
NRM
12.
Peoples Democratic Party
PDP
13.
Peoples Redemption Party
PRP
14.
Social Democratic Party
SDP
15.
Young Progressive Party
YPP
16.
Zenith Labour Party
ZLP
17. Action Peoples Party (APP)
18. Boot Party (BP) – registered after the 2019 elections by court order.
List of de-registered political parties
1. ADVANCED ALLIED PARTY (AAP)
2.
ALL BLENDING PARTY
ABP
3.
ADVANCED CONGRESS OF DEMOCRATS
ACD
4.
ALLIED CONGRESS PARTY OF NIGERIA
ACPN
5.
ALLIANCE FOR DEMOCRACY
AD
6.
ALL GRASSROOTS ALLIANCE
AGA
7.
ALL GRAND ALLIANCE PARTY
AGAP
8.
ADVANCED NIGERIA DEMOCRATIC PARTY
ANDP
9.
ALLIANCE FOR NEW NIGERIA
ANN
10.
ALLIANCE NATIONAL PARTY
ANP
11.
ABUNDANT NIGERIA RENEWAL PARTY
ANRP
12.
AFRICAN PEOPLES ALLIANCE
APA
13.
ADVANCED PEOPLES DEMOCRATIC ALLIANCE
APDA
14.
ALTERNATIVE PARTY OF NIGERIA
APN
15.
ALLIANCE OF SOCIAL DEMOCRATS
ASD
16.
ALLIANCE FOR A UNITED NIGERIA
AUN
17.
BETTER NIGERIA PROGRESSIVE PARTY
BNPP
18.
CHANGE ADVOCACY PARTY
CAP
19.
COALITION FOR CHANGE
C4C
20.
CHANGE NIGERIA PARTY
CNP
21.
CONGRESS OF PATRIOTS
COP
22.
DEMOCRATIC ALTERNATIVE
DA
23.
DEMOCRATIC PEOPLES CONGRESS
DPC
24.
DEMOCRATIC PEOPLES PARTY
DPP
25.
FRESH DEMOCRATIC PARTY
FRESH
26.
FREEDOM AND JUSTICE PARTY
FJP
27.
GRASSROOTS DEVELOPMENT PARTY OF NIGERIA
GDPN
28.
GREEN PARTY OF NIGERIA
GPN
29.
HOPE DEMOCRATIC PARTY
HDP
30.
INDEPENDENT DEMOCRATS
ID
31.
JUSTICE MUST PREVAIL PARTY
JMPP
32.
KOWA PARTY
KP
33.
LIBERATION MOVEMENT
LM
34.
LEGACY PARTY OF NIGERIA
LPN
35.
MASS ACTION JOINT ALLIANCE
MAJA
36.
MODERN DEMOCRATIC PARTY
MDP
37.
MASSES MOVEMENT OF NIGERIA
MMN
38.
MEGA PARTY OF NIGERIA
MPN
39.
MOVEMENT FOR THE RESTORATION AND DEFENCE OF DEMOCRACY
MRDD
40.
NATIONAL ACTION COUNCIL
NAC
41.
NIGERIA COMMUNITY MOVEMENT PARTY
NCMP
42.
NATIONAL CONSCIENCE PARTY
NCP
43.
NIGERIA DEMOCRATIC CONGRESS PARTY
NDCP
44.
NATIONAL DEMOCRATIC LIBERTY PARTY
NDLP
45.
NIGERIA ELEMENTS PROGRESSIVE PARTY
NEPP
46.
NIGERIA FOR DEMOCRACY
NFD
47.
NEW GENERATION PARTY OF NIGERIA
NGP
48.
NATIONAL INTEREST PARTY
NIP
49.
NIGERIA PEOPLES CONGRESS
NPC
50.
NEW PROGRESSIVE MOVEMENT
NPM
51.
NATIONAL UNITY PARTY
NUP
52.
PEOPLES COALITION PARTY
PCP
53.
PEOPLES FOR DEMOCRATIC CHANGE
PDC
54.
PEOPLES DEMOCRATIC MOVEMENT
PDM
55.
PROGRESSIVE PEOPLES ALLIANCE
PPA
56.
PROVIDENCE PEOPLES CONGRESS
PPC
57.
PEOPLES PARTY OF NIGERIA
PPN
58.
PEOPLES PROGRESSIVE PARTY
PPP
59.
PEOPLES TRUST
PT
60.
REFORM AND ADVANCEMENT PARTY
RAP
61.
RE-BUILD NIGERIA PARTY
RBNP
62.
RESTORATION PARTY OF NIGERIA
RP
63.
SAVE NIGERIA CONGRESS
SNC
64.
SUSTAINABLE NATIONAL PARTY
SNP
65.
SOCIALIST PARTY OF NIGERIA
SPN
66.
UNITED DEMOCRATIC PARTY
UDP
67.
UNITED PATRIOTS
UP
68.
UNITED PEOPLES CONGRESS
UPC
69.
UNITY PARTY OF NIGERIA
UPN
70.
UNITED PROGRESSIVE PARTY
UPP
71.
WE THE PEOPLE NIGERIA
WTPN
72.
YOUNG DEMOCRATIC PARTY
YDP
73.
YES ELECTORATES SOLIDARITY
YES
74.
YOUTH PARTY
YP