Amotekun: Stop Betraying S/West – Fani-Kayode Advises MURIC's Akintola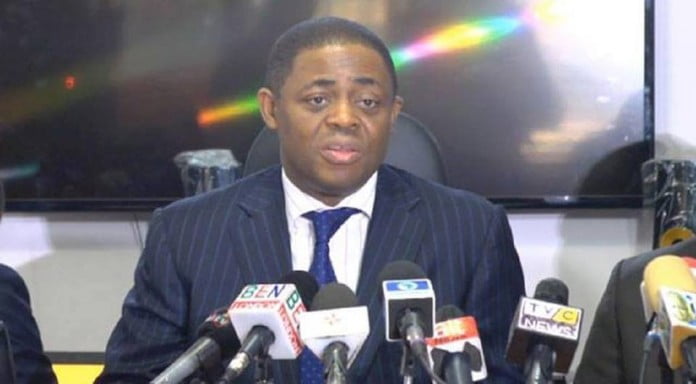 Femi Fani-Kayode, a former Minister of Aviation, has again berated the Director of the Muslim Rights Concern (MURIC), Prof. Ishaq Akintola.
Naija News reports that Fani-Kayode and Akintola have been at loggerheads over the establishment of the South-west security network, codenamed Operation Amotekun.
The MURIC boss had called on South-west governors to rebrand Amotekun.
Prof. Akintola had claimed that the security outfit has Biblical origin.
According to the MURIC director, south-west governors are only recruiting Christians into Amotekun which he described as a militia.
This did not go down well with the former Culture and Tourism Minister, who tackled Akintoal, accusing him of betraying the South-west and dancing to the tune of Fulanis in the north.
Responding, the MURIC boss slammed Fani-Kayode, saying it was his father, Remi Fani-Kayode, that betrayed the South-west.
Reacting in a post on his Twitter handle on Sunday, Femi Fani-Kayode said MURIC is dancing on the graves and the blood of S/west people that is being shed by his Fulani paymasters.
He advised Prof. Akintola to stop betraying the people of the South-West, to stop sabotaging, dividing & destroying the South and to stop trying to ignite a religious war.
Fani-Kayode wrote: "I don't like to respond to rubbish & garbage like Ishaq Akintola but in this case, I will make an exception.
"His father, Alhaji Alimi Akintola, who died in 2018, was a traditional Baale, an erudite politician, one of Ife's 'Big 7' loyalist supporters of my late father, the Balogun of Ife, Chief Remi Fani-Kayode in the early 1960s & one of his greatest & most respected friends.
"Go & find out. He forgot his father's history & now he is insulting his fathers boss & political mentor, Chief Remi Fani-Kayode whose outstanding political legacy and selfless contributions to our nation's history is exemplary and second to none.
"Ishaq is too small to call that name & he knows nothing about the history of our people. This is about him & not about me or my father. We are talking about what he is doing to our people today and not what others did or did not do 50 or 60 years ago.
"Let him defend his own abominable and diabolical record of dancing on the graves and the blood of our people that is being shed by his Fulani paymasters.
"The truth is that Ishaq is nothing but scum and neither does he speak for the Muslims of the South West. He speaks only for himself. Worse still he is a fake Muslim scholar who attended some fake Almajiri school in Cairo many years ago.
"He is not fit to kiss my feet or lick my shoes. He is filth. He is the lowest of the low. He is a vulture, a cockroach, a sewer rat & a desert monkey all rolled in one. An ugly little flesh-eating vulture, rat, cockroach & monkey that is on the payroll of the Sultan of Sokoto and his Fulani and Arab masters.
"Let him go to the core north in any Fulani mosque and say he wants to lead prayers. They will call him an infidel, throw him out, stone him, cut off his head and feed his body to the pigs and dogs
"When Oduduwa is established we have a place to keep people like him."