Biafra: Nnamdi Kanu Bombs Presidency Over Abaribe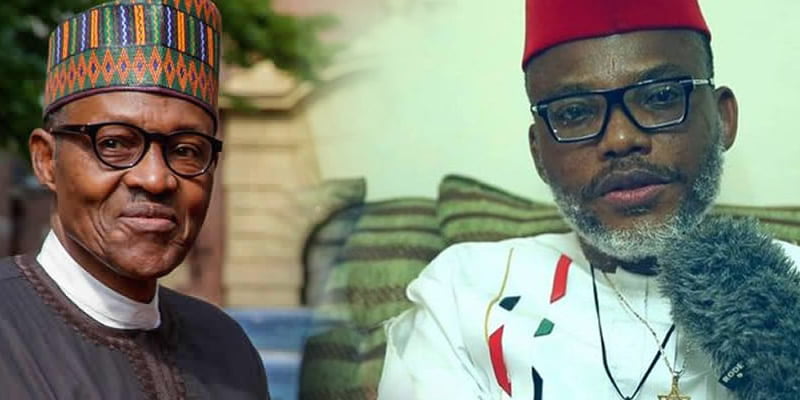 The leader of the Indigenous People of Biafra (IPOB), Nnamdi Kanu, has berated the Presidency for claiming he jumped bail in Nigeria.
Naija News reports that the Presidency revisited Senator Enyinnaya Abaribe's role in the release of the leader of the IPOB leader from prison after the latter demanded President Muhammadu Buhari's resignation over insecurity in Nigeria.
Senator Abaribe claimed that the Buhari-led administration and the All Progressives Congress has failed Nigerians.
The Abia South lawmaker while contributing to the motion sponsored by the Senate leader, Yahaya Abdullahi on national security said, President Buhari, has been lying to Nigerians that Boko Haram has been defeated.
"Nigerians did not elect the Chief of Staff, Nigerians did not elect heads of Security, Nigerians elected President Muhammadu Buhari in 2015 and in 2019," he said.
"As it is, we are facing the head of the Nigerian government and this is President Buhari. He should resign with immediate effect," Abaribe said.
Apparently displeased with the call, Garba Shehu, the Senior Special Adviser to the President on Media and Publicity, attacked the Senator, saying he helped Kanu jump bail.
The Presidential spokesman stressed that Senator Abaribe should have replaced Kanu after the IPOB leader "jumped" bail instead of attacking President Buhari.
Shehu maintained that Senator Abaribe's call for Buhari's resignation does not represent the opinion of the country.
His words: "If a leader like President Buhari needs to resign, there are millions of other Nigerians who need to resign, including Senator Abaribe who unlocked the door to enable the escape of traitorous and treasonable suspects.
"He signed the bond for the court to release Nnamdi Kanu on bail, from which moment the suspect disappeared into the thin air.
"Senator Abaribe has failed repeated deadlines to return Kanu to the court for trial, yet he has the effrontery with which to accuse someone of failing to the bidding of the law.
"This is a man who should have replaced the suspects he failed to produce in the correctional facility," the Presidential spokesman said.
However, reacting to Shehu's claim in a tweet, Kanu denied jumping bail, claiming that the Nigerian Army invaded his home to assassinate him.
His words: "On 29/01/2020, in his response to #BuhariResign @GarShehu
tweeted that I jumped bail and disappeared "into the thin air." WRONG!
"Nigerian Army invaded my home to assassinate me, read my story and join the heated discussion on the Independent's website," he added.
On 29/01/2020, in his response to #BuhariResign @GarShehu tweeted that I jumped bail and disappeared "into the thin air." WRONG!

Nigerian Army invaded my home to assassinate me, read my story and join the heated discussion on the Independent's website:https://t.co/xoKSTcNeNL

— Mazi Nnamdi Kanu (@MaziNnamdiKanu) January 30, 2020