Buhari Speaks On Cabals Hindering Him From Doing His Job Well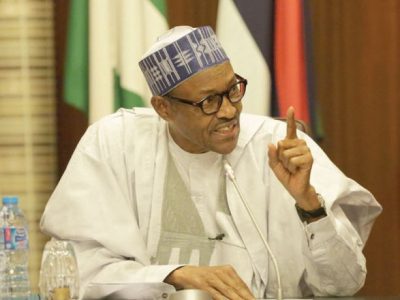 Against claims by President Muhammadu Buhari's wife, Aisha Buhari, the president has dismissed claims that his cabinet is being influenced by cabals in his government.
Recall that Aisha Buhari has been claiming for a while now that a cabal is controlling her husband's government.
However, while speaking in an interview with The Interview Magazine, Buhari stated that he's the only one that took an oath for the office of the President and can exercise the power that comes with it.
He said;
"I was the one who went round the country on campaigns, and I was the one voted into office as President, twice. No one else did, and no one else took the oath of office, and can exercise the powers of a President."
Meanwhile, Senate Minority leader, Senator Enyinnaya Abaribe who started an uproar yesterday, when he demanded the resignation of President Muhammadu Buhari from office, seems to have gathered support as many other has joined him in clamouring for the presidents' removal.
Naija News reports that the Senator representing Abia-South Senatorial District of Abia State while contributing to a debate on the current state of Nigeria's security the floor of the Senate, claimed that the Buhari-led administration and the All Progressives Congress has failed Nigerians.
More Nigerians have now taken to Twitter to air their views on the call for Buhari's resignation as well as the tenure of the nation's security chiefs vis-a-viz the war against Boko Haram insurgents and other terrorists.
See reactions here.
Source: Naija News