Reaction Trail Burna Boy As He lose Grammy Award To Angelique Kidjo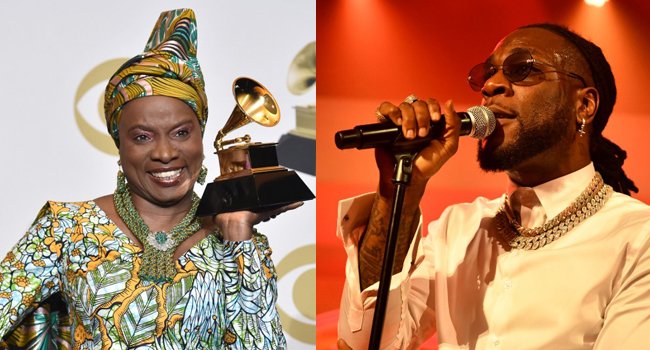 African Giant and Nigerian Singer, Damini Ebunoluwa Ogulu, popularly known as Burna Boy, has lost the height of earning the World Best Music Album Award in the just concluded 2020 Grammy Awards.
Naija News understands that in the musical industry, Burna Boy is one of the recognized artists whose song has paint-white the way Africa is perceived all over the world.
This was confirmed by the 2020 Award Award Winner, Angelique Kidjo, while speaking in the event which was held on Sunday, 26th January.
However, Angelique Kidjo, while making her acceptance speech, dedicated the award to Burna Boy. See the video below.
– Grammy Awards 2020: Burna Boy loses to Angelique Kidjo, dedicates award to burnaboy. pic.twitter.com/8QhTmRXwn6

— Postsubman (@Postsubman) January 27, 2020
Below are some reactions of Nigerians below after Kidjo was declared winner from Twitter.
Well, Burna boy not winning the Grammy awards doesn't change anything. Please.
.
Having burna in the same category with Angelique Kidjo. Who did you think would have won? Lol.
.
Congratulations to Angelique kidjo

— AUNTY ADA (@AuntyAdaa) January 27, 2020
Although he didn't win the #GRAMMYAwards2020, I am very proud of the recognition that @burnaboy has received on the world stage today. Angelique Kidjo dedicating her win to him is the definition of grace and class. Burna is just 28. He will come again. Una know say him special.

— Dr. Joe Abah (@DrJoeAbah) January 27, 2020
Burna Boy was not cheated. Angelique Kidjo is a legend in music & Africa as a whole. The 62nd Grammy is Burma's first nomination, but Kidjo's 10th… Burna is one of our own but let's give respect to whoever deserves it.

— Series Abíọ́dún (@Engr_Series) January 27, 2020
Angélique Kidjo is an icon. She has been doing this music thing years before I was born and trust me, I'm older than 60% of y'all on this app. Don't ever disrespect her because you think Burna should've won. Angélique winning takes nothing away from Burna, he's phenomenal.

— Mazi Olisaemeka C. ™ (@OlisaOsega) January 27, 2020
You saw that nomination list, you knew yourself that it's competitive and he would probably not win.

But you went ahead shouting "Burna will win" the same way you shout "I will become a millionaire" without working towards it.

Now you are gonna act like he was cheated, clowns!

— Online bestie (@the_lopetee) January 27, 2020
Burna Boy made it to a global stage even though he didn't win but he won Africa.

Congratulations to Angelique Kidjo who won and dedicated the Award to Burna!

Africa to the World! #GRAMMYs #Grammys2020 pic.twitter.com/gcE8pLAZ38

— Tosin Olugbenga (@TosinOlugbenga) January 27, 2020
Angelique Kidjo is a legend.
Burna Boy is a legend in the making. They're both deserving and a part of this history https://t.co/5BttYi9Dbf

— Ivie Ani (@ivieani) January 27, 2020
Source: Naija News