MFM Breaks Silence On Having Highest Number Of Single Ladies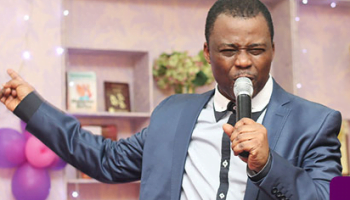 Popular Nigerian Church, Mountain of Fire and Miracles Ministries, which is headed by it's General Overseer, Dr Daniel Olukoya, has broken silence on the saying that the Church in its congregation, has the highest number of unmarried young ladies because of its doctrines.
The spokesperson to Dr Daniel Olukoya, Collins Edomaruse, who reacted to the claims, disclosed that the Church has married in and out no less than 150,000 couples within the last 10 years.
"We encourage and actively support all spinsters and bachelors, regardless of denomination, to build their relationships on biblical standards. We strongly advise all our single men and women to marry fellow believers within the Christian faith," said Collins.
He further explained that MFM, through its singles ministry, Gen 218, has in the last decade, conducted over 150,000 weddings.
"We believe this is God's will for marriage and is the best foundation for a successful and a Godly marriage. Dr Olukoya and MFM ministries have never stated that single men and women within this ministry should only marry within the ministry," he added.
Naija News recalls that the General Overseer of the Mountain of Fire and Miracle Ministry (MFM), Dr Daniel Olukoya, has in December last year described Christmas celebration as idolatry.
Olukoya said the celebration of Christmas was unbiblical, adding that no book in the Bible recorded the word ' Christmas' or that Jesus was born on December 25.
He said: "If you really study the Bible from Genesis to Revelation, there is no word like Christmas.
Source: Naija News