Nigerians React To Leah Sharibu Giving Birth In Boko Haram Captivity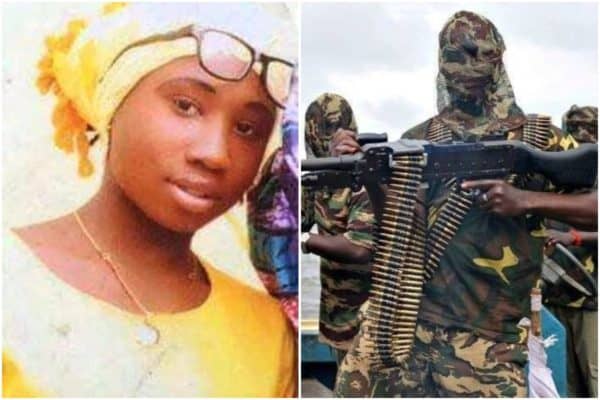 A storm of reactions by Nigerians has greeted the reports that Leah Sharibu, the Christian girl from Dapchi, kidnapped by Boko Haram, an Islamist sect in 2018, has given birth to a baby boy.
A report monitored on a Nigerian online news website, SaharaReporters by Naija News, had quoted a source who is familiar with Leah's situation, to have said that the abducted Christian girl gave birth to a baby boy.
The report said Leah was delivered of the baby a few weeks ago following her forceful marriage to a top Boko Haram commander, a reliable source close to the terror group told SaharaReporters.
This online news platform understands that the report quoted the source to have said that Leah, who refused to renounce her Christian faith, was forced to accept Islam before being married to a top commander of the terror group.
Reacting to the report in an interview with Vanguard, Nathan Sharibu, the father of Leah, dismissed the report, adding that he does not want to hear of such pathetic news about his daughter.
"I have not heard that and I don't want to hear any such news", he told Sunday Vanguard angrily.
Like Leah's father, Nigerians have taken to the micro-blogging site, Twitter, to berate the Federal Government led by President Muhammadu Buhari over Leah's predicament.
Naija News captured some of the reactions below…
Very distressing report on Leah Sharibu: Rape, pregnancy and birth. Clear failure by Govt to get her liberated. Meanwhile, Boko Haram pursue their strategy of deepening the Muslim/Christian divide for their benefit. Nigeria must accelerate war on terror & national understanding.

— Jibrin Ibrahim (@JibrinIbrahim17) January 26, 2020
Just look at her. Even Patience @GEJonathan called a press conference and cried before the cameras for #Chibokgirls but our mummy here never seemed to care about the poor girl called Leah Sharibu. @OfficialAPCNg mocked patience for trying but look at who we have here. https://t.co/O6alQvi54Q

— Ayekooto (@thebardogbamola) January 25, 2020
Leah Sharibu: No case is closed with God. A living dog is better than a dead lion.

Oprah Winfrey had worse in her past, today her case is different. I strongly believe Leah is going to make it.

There must be sometin scary about her will and faith that the devil can't overlook.

— Ayemotekun (@ayemojubar) January 26, 2020
Boko haram killed a pastor
Boko haram killed students
Boko haram impregnated leah sharibu

And this country goes on like nothing happened

My uncle relocated to the US few years ago.. He said when he dies Nobody should bring his body back

I thought he was mad.
Na me no get sense pic.twitter.com/dsqjc3SgSp

— NaijaFarmer (@Nig_Farmer) January 25, 2020
On this Leah Sharibu issue, let's call a spade a spade. The government FAILED! Which one is "we failed her as a nation"? Call out the government for their failure and stop making it sound mild by saying "we" failed her. what should the ordinary citizen have done?

— Adide (@sam_adide) January 25, 2020
No, Leah DID NOT MARRY that monster!
Leah Sharibu was raped.
Leah Sharibu was RAPED.

Leah Sharibu was RAPED.

Leah Sharibu was RAPED.

Leah Sharibu was RAPED.

Leah Sharibu was RAPED.

Leah Sharibu was RAPED.

LEAH SHARIBU WAS RAPED.

Leah Sharibu is a RAPE VICTIM.#LeahSharibu pic.twitter.com/B4xcKIZZD5

— Fatima Adu (First Lady™) (@NaijaGoBeta1) January 26, 2020
If because you are in power, you think your own kids are safe and secured; just remember that karma is a bitch, she'll come for you in ways unexpected and unrelated. …https://t.co/ZTiW74DGqC

— Olushola Olufolabi (@olushola_shola) January 26, 2020
As a nation, we failed Leah Sharibu.☹️☹️☹️☹️☹️☹️☹️ https://t.co/zoSJ9RO5qs

— Fisayo Soyombo (@fisayosoyombo) January 25, 2020
Imagine Niger Delta militants kidnaps Students, after negotiations released them & kept back one Aisha bcos she refused to convert to Christianity. This country will burn.
I will continue to say it. They abandoned Leah Sharibu wit Boko Haram bcos she is not Muslim
Shame on u all pic.twitter.com/n5nVubGcWf

— Comrade ???? (@iAGB4REAL) January 26, 2020
Once upon a time, a Nigerian first Lady cried publicly because Boko Haram kidnapped school girl. She was mocked at every nook and Cranny of the nation for the act, even inside the Senate.

Today Leah Sharibu is a baby Mama to a Boko Haram Commander… There is God oooh ??? pic.twitter.com/JyMj4aJbte

— Hill VIEW (@HVMtimeline) January 26, 2020