Andy Ruiz Jr. Sacks His Coach A Month After Losing To Anthony Joshua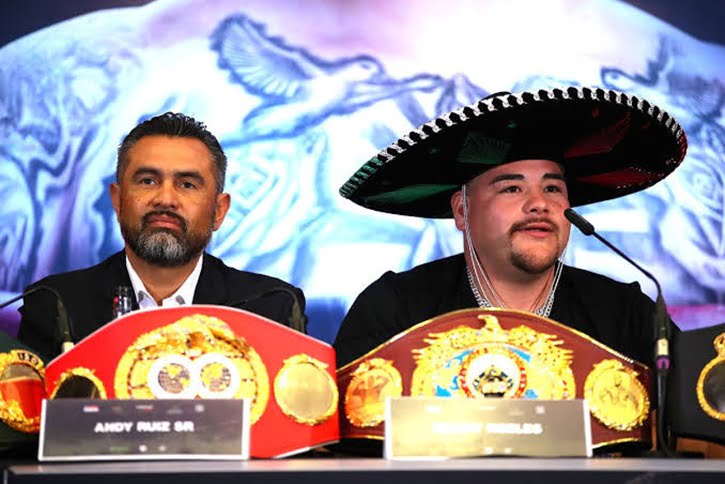 American professional boxer of Mexican descent, Andrés Ponce, well known as Andy Ruiz Jr has reportedly sent off his training coach after he loses to Anthony Joshua.
Naija News recalls that British-Nigerian boxer, Anthony Joshua, in December last year defeated Mexican-American boxer, Andy Ruiz after 12-round of a thrilling fight.
Anthony Joshua (AJ) won by unanimous decision, with the judges scoring AJ 118-110. 118-110. 119-109, to reclaimed the WBA, IBF and WBO heavyweight world titles in front of 15,000 spectators.
Barely two months after AJ defeated Ruiz Jr., the Mexican boxer has sacked his coach, Manny Robles, who had coached him to successfully defeat Joshua in June last year.
It was also reported that Robles blasted Ruiz saying he had refused to listen to him or his dad after winning the Heavyweight belts from Joshua in their first clash, and that his stubbornness eventually led to his loss six months later.
Robles in a conversation with ESPN, reveals that the relationship between him and Ruiz is never going to work because Ruiz 'wasn't listening.
"I've seen it coming, I'll be honest with you,' he said. 'Andy was just doing whatever the hell he wanted to do. The dad, obviously with him being the manager, he just had no control over his son. None of us had control of him, for that matter," said Robles.
"So I just saw it coming, it wasn't going to work because he wasn't listening. He's not listening to me, he's not listening to his dad, he's not listening to anybody. He said it himself after the [post-fight] press conference."
"Fortunately for me, Andy took the blame on himself and didn't sit there like a majority of fighters and blame the coach. The decision was taken by the fighter's promoter Al Haymon to give him a fresh start."
Source: Naija News