Reactions Trail Killing Of Abducted CAN Chairman By Boko Haram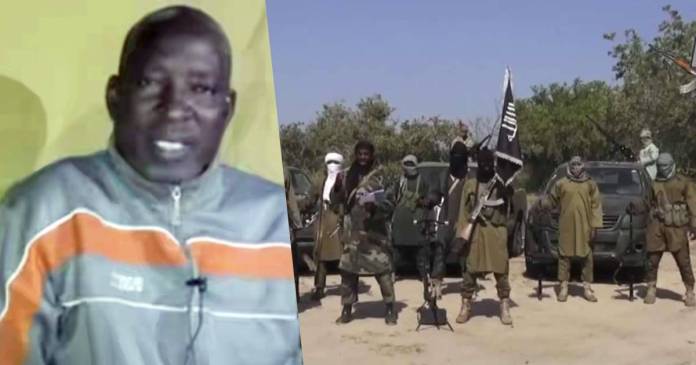 Lawan Andimi, chairman of the Christian Association of Nigeria (CAN) in Michika LGA of Adamawa state, have been killed by members of Boko Haram group.
Naija News recalls that Andimi was abducted early January when the insurgents attacked his village.
Confirming the killing of the abducted CAN Chairman, the Catholic Bishop of Yola Diocese, Bishop Dami Mamza described the murder of the clergy as gruesome and unfortunate.
Bishop Mamza who made the disclosure in an interview with some Journalists in Yola the Adamawa state capital said the insurgents had demanded two million euros but still went ahead to executive the Pastor.
According to the Bishop, the killing was communicated to them through their contact.
He added that another pastor was abducted and killed almost the same time with the abducted Pastor from Michika.
However, several  Nigerians have raised diverse reactions on social media. Here are some reactions as follow
Rest in perfect peace Rev. Lawan Andimi❤️. I hate boko haram SO much.

— 4 1 9ite (@Twtvs2) January 21, 2020
Boko Haram behead CAN Chairman; Rev'd Lawan Andimi.

The CAN Chairman of Michika LGA, Adamawa, has been in the Boko Haram custody since January. They have however demanded £2m but N50m was raised instead.

The Boko Haram group declined the offer and proceeded with executing him. pic.twitter.com/SfvUsiR3N1

— Amalang (@amalang01) January 22, 2020
It is appalling that Boko Haram followed up the killing of Rev. Lawan Andimi on Monday with an attack on his village – in Chibok local government Borno state. Targeting civilians is a crime under international law.

— Amnesty Int. Nigeria (@AmnestyNigeria) January 21, 2020
These stenciled statements won't help. You promised to protect all Nigerians, not minding tongue & creed. You let Rev. Lawan Andimi down in his hour of need, same way you're letting many Nigerians down. Tragic! https://t.co/htdeCuFHaS

— Chuks Akunna (@akunnachux) January 21, 2020
2,100 days of 112 Chibok girls, Leah Sharibu, Alice Ngadda, Grace Taku, Bitrus Z Bala, Rev Lawan Andimi, Patience Ishaku, Awagana Kwagwi, Saratu Kwagwi, others still missing. We contn demands for their rescue @NGRPresident @MBuhari @realDonaldTrump @obyezeks @BBOG_Nigeria pic.twitter.com/kWTtD8rYmz

— gapani yanga (@gapani2) January 13, 2020
The deadly Nigeria terrorists, Boko Haram has beheaded the chairman of the Christian Asso of Nigeria – CAN – Rev'd Lawan Andimi.
I wonder how @MBuhari will explain this. He promised security and called Jonathan clueless. What do we make of this govt's failures with security?

— Faustina Anyanwu (@fauntee) January 22, 2020
BREAKING: Rev Lawan Andimi, the kidnapped CAN chairman was killed by the technically defeated Boko Haram yesterday.

Is this a kick of a dying horse as said by Buratai. That man deserves a sack letter. This is no longer a joke.@SecPompeo @USEmbassyAbujapic.twitter.com/lIOuWyh7lh

— Ayemotekun 😠 (@ayemojubar) January 21, 2020
The cold blooded murder of Rev. Lawan Andimi by Boko Haram is a chilling reminder of its menace.
Those responsible for these reprehensible acts of terrorism must be held accountable.
Our condolences go to his family pic.twitter.com/6YXsPLcP79

— EiE Nigeria (@EiENigeria) January 21, 2020
"@Austynzogs: Boko Haram terrorists rejected a N50m ransom and went ahead to behead Chairman of Christian Association of Nigeria in Michika, Adamawa State, Rev. Lawan Andimi on Monday.The insurgents had demanded for N946m but was only offered N50m, infuriating the terrorists

— 𝔾𝕀𝔻𝕀𝕋ℝ𝔸𝔽𝔽𝕀ℂ (@Gidi_Traffic) January 21, 2020
Rev. Lawan Andimi was kidnapped by Boko Haram in Nigeria & beheaded. He was Chairman of Christian Association of Nigeria, Adamawa State. @Obama, this is what your Buhari has done to Nigeria. Innocent people murdered & BH 'repented' fighters forgiven & reabsorbed into the society pic.twitter.com/r0YbyL0cOo

— Yinka B. (@ykgb) January 21, 2020
Rev. Lawan Andimi was kidnapped by Boko Haram in Nigeria & beheaded. He was Chairman of Christian Association of Nigeria, Adamawa State. @Obama, this is what your Buhari has done to Nigeria. Innocent people murdered & BH 'repented' fighters forgiven & reabsorbed into the society pic.twitter.com/r0YbyL0cOo

— Yinka B. (@ykgb) January 21, 2020