Father Mbaka Speaks On Collecting Bribe From APC For 'Ihedioha's Sack Prophecy'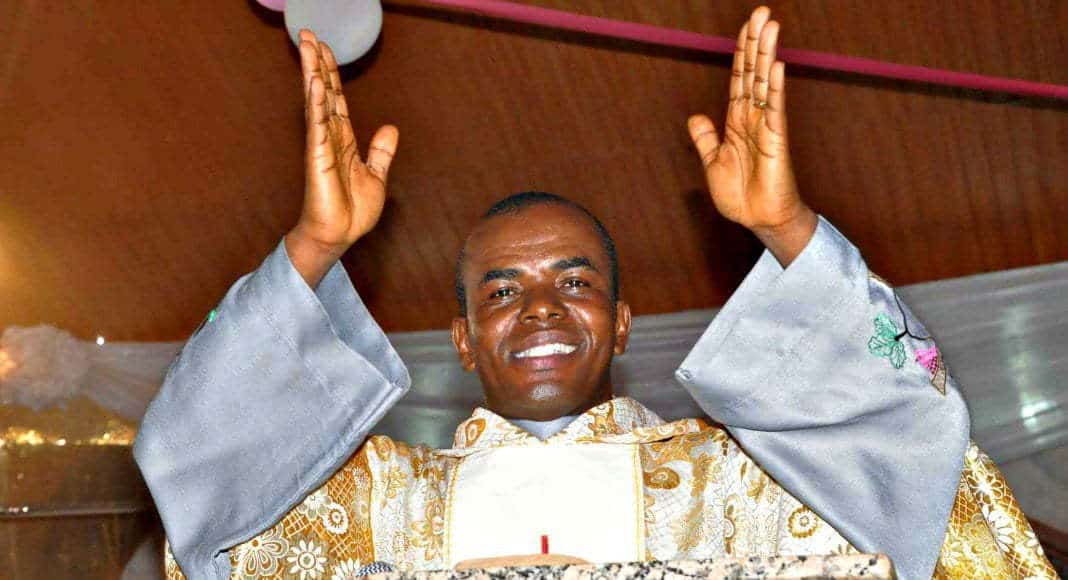 The Spiritual Director of Adoration Ministry in Enugu, southeast Nigeria, Rev. Father Ejike Mbaka,has quashed the allegation that he received a bribe from the ruling All Progressives Congress (APC), to prophesy the sack of Emeka Ihedoha as the Governor of Imo State, southeast Nigeria.
Naija News had reported earlier that the Supreme court sacked Ihedioha as governor of Imo state and affirmed Hope Uzodinma as the winner of the March 9 governorship election.
Giving judgment on the election on Tuesday, a seven-man panel of justices in a unanimous decision, held that Ihedioha did not win the majority of votes cast in the election.
Justice Kudirat Kekere-Ekun, who read the judgment, ordered INEC to withdraw the certificate of return issued to Ihedioha and give a fresh one to his APC rival.
"The votes due to the appellant, Hope Uzodinma and the All Progressives Congress (APC) from 388 polling units were wrongly excluded from scores ascribed to them," Justice Kekere-Ekun ruled.
This online news platform understands that the judgment of the apex court affirmed the prophecy released by Mbaka that the Imo governor will be removed and replaced with Uzodinma.
However, since the prophecy came to pass, Nigerians have since expressed missed reactions, with some attacking the clergyman with the claim that he was bribed by the APC government led by President Muhammadu Buhari to give the prophecy in favour of its candidate, Uzodinma.
Reacting to the allegation, Father Mbaka, while speaking during his homily on Sunday, insisted that he was not being paid for his prophecies.
His words: "Some of you who are saying that I'm an APC man and I collect money for prophecy should stop talking.
"If it is a question of money, Goodluck Jonathan wouldn't have lost 2015 presidential election because they were ready to give me everything provided they retained the seat.
"The message is not partisan, I'm not a politician, I am a prophet of God. The Governor of Enugu State and Ebonyi State we are praising for doing wonders, are they APC?
"I went to Imo State to pray for Uzodimma, yes! Is that your business? Did I go with your legs? If after everything Hope (Uzodinma) called me to come and pray in Imo government house who am I to say no?"