Mother In-Law Demands Sex From Son In-Law So They Can Get Rich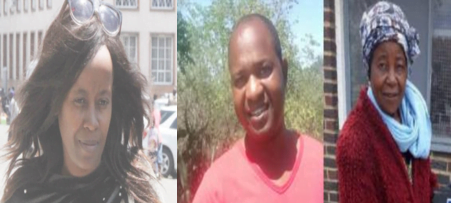 A Zimbabwean man has received the shock of his life after his mother-inlaw makes some strange demands and move that are totally a taboo.
Naija News understands that the Zimbabwean man identified as Manfred has cried out after he discovered that his woman had planned with his mother-in-law (her mother) to lay with him so they can become wealthy.
Mr Manfred disclosed that his wife whom they have been married for 10 years has ordered him to sleep with her sex-starved mother so that they could be rich.
Manfred made this confession after his wife, Tariro Nhemechena had sued him to court demanding her protection from him with claims that he has been abusing her.
Manfred in a chat with journalists revealed that his wife had wanted him to sleep with her mother.
He said; "It was not only traumatising but shameful, I have since lost my respect for her and I can no longer look at her the same way. Thank God I didn't give in to her devilish demands,"
"I started noticing something unusual in 2015 when she came and briefly stayed with us. I definitely didn't have a problem with that until she started demanding to sleep in my matrimonial bedroom.
"When I asked her why she wanted to join us in our bedroom she said her husband (his father-in-law) was no longer sleeping with her".
Manfred said when he noticed the strange movement of his mother-in-law, he suggested that she go and see her husband's relatives, but to his surprise, she rejected his suggestion and start making attempt to forcibly sleep with him in his matrimonial bedroom.
"Living true to her demands she moved into our matrimonial bedroom and out of fear I moved to another spare bedroom. "The following day while dressed skimpily, she followed me to the spare bedroom where she found me sleeping and she tenderly sat on my legs. From that day she was the one who was now preparing breakfast and supper for me and ironing my clothes".
He added, "What was also happening was that when I came home late, she was the one who was always opening the door for me and she would be in a see-through nightdress exposing all her vital parts."
"When I told my wife about her mother's taboo demands and seduction moves, I was shocked by her response. Her response to me was YES, it is true that they are no longer sleeping together and once you sleep with her, we are rich. She said to me."
As it is now, reports had it that the two are living separately now, and there is a court battle on who would take charge of their 4-year-old son.
This is coming a few days after Naija News listed some countries that encourage its citizens and even pay them to have more sex.
Source: Naija News