EFCC Under Attack Following Recent Operations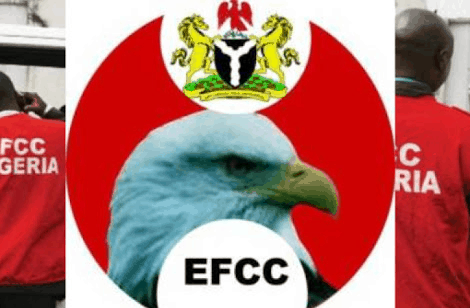 Following the arrest of 89 suspected internet fraudsters at the Club 360, Nigerians have come for the Economic and Financial Crimes Commission, EFCC on various social media platforms.
Recall Naija News reported that the EFCC Arrested 89 suspected internet fraudsters, popularly known as Yahoo boys at the Club 360 located on Akala Expressway, Oluyole Extension in Ibadan, the Oyo State capital.
It was learnt that during the raid, , the commission seized a lot of vehicles, laptops, sophisticated phones, and other items.
Nigerians have taken to Twitter to react to this development:
When will EFCC raid the National Assembly???we have enough yahoo men there https://t.co/28BjKoMdEQ

— LONDON (@london_used) January 20, 2020
This is a shakedown.
You could be in a bar tomorrow drinking and screaming at Lacazette for missing a tap in and EFCC will rush in a grab you.
Next thing, you are appearing on the news as a yahoo boy😭😭😭😭 https://t.co/fzXtKnUryj

— The Papi (@tawah89) January 20, 2020
Hype man: Toni-wire on the casket of champagne. 200K going! Straight from Dublin! Opor!! Mafo!

Yahoo boy: Call my name louder!

Efcc officer: Adekunle saheed

Yahoo boy: [Looks back] How you know my nam…💔

Efcc officer: You are under arrest😂

— SUN🌝 (@shank_comics) January 20, 2020
Please, who knows how this works? When EFCC operatives raid a nightclub based on intel that it harbors fraudsters, how do they tell Yahoo boys from innocent partiers there? It's not fair to arrest anyone for merely being in a club, and then release them later. That's harassment. https://t.co/dt7oN9aTa7

— Gimba Kakanda (@gimbakakanda) January 20, 2020
Just now!

I left my PPA to go and eat Amala at one joint here in Ibadan, all of a sudden EFCC officials came in to eat Amala too, come and see the way boys who were also eating Amala started running 🏃 leaving their things behind. Wasn't funny mehn

ones wey no do Yahoo Dey fear

— El Jefe🖤 OMO IDÍLEKÈ 💰 (@jefferybest1) January 20, 2020
Wetin man no go see for this Naija? Even EFCC dey drip pic.twitter.com/iDA8JjSx7H

— Dayor_Official 🇳🇬 (@TroublesomeDay1) January 20, 2020
EFCC said they arrested 89 yahoo boys in Ibadan. What were they all doing in one place? Shey na seminar them go?

You just entered a night club, packed everybody you see and then labeled them "yahoo boys"

— AJ | Adonai (@mrmanhere_) January 20, 2020
EFCC will randomly March Into club and bars. Arrest innocent men, open twitter and shout " we arrested 89 yahoo boys".

No investigation, no trial, no nothing, accuse and investigative.

Lol, red clothed Sars.

— Pastor Ola ✨ (@Biisi96) January 20, 2020
The EFCC will go down as the biggest Yahoo syndicate operating within a legal auspices in this country. Because all they do is track and arrest Yahoo boys, extort them of millions and release them back into the streets. They're not different from criminals.

— Kelvin Odanz (@MrOdanz) January 20, 2020