US House Of Reps. Continues Move To Sack Trump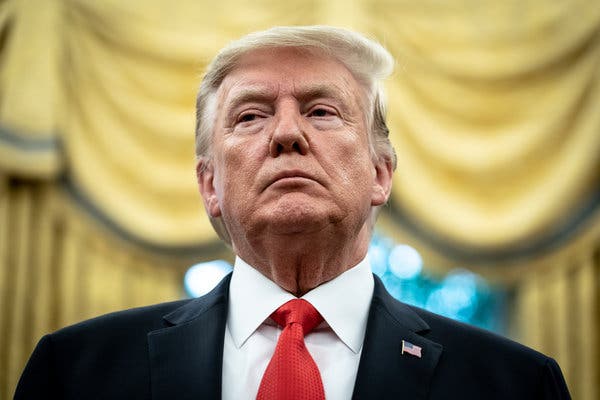 Articles of impeachment charging President Donald Trump with abuse of power and obstruction of Congress has been submitted by the US House of Representatives to the Senate, yesterday.
Senate leader, Mitch McConnell (Republican) said the  House has submitted the articles, which according to him would be formally read to the chamber on Thursday at noon (17:00 GMT).
He further noted the Supreme Court Chief Justice John Roberts, after the reading would be sworn in to preside over the trial
Senators will then be sworn in as jurors today, and preparations will get underway for an impeachment trial that will begin on Tuesday, January 21.
"This is a difficult time for our country, but this is precisely the kind of time for which the framers created the Senate," McConnell said, referring to the authors of the US Constitution.
The two articles of impeachment are one for abuse of power and the other for obstructing the House investigation.
Speaker of the House of Representatives, Nancy Pelosi, (Democrat) said as she signed the articles, "So sad, so tragic for our country, that the actions taken by the president to undermine our national security, to violate his oath of office and to jeopardise the security of our elections, has taken us to this place.
"This president will be held accountable," she said, adding: "No one is above the law."
Trump became only the third president in the history of the United States to be placed on trial in the Senate.
Meanwhile, the speaker of US House of Representatives, Nancy Pelosi has revealed the seven impeachment managers who will move impeachment articles to the senate for US President Donald Trump's trail.
This she did The impeachment managers were revealed and named by Nancy Pelosi on Wednesday after the House voted along party lines to submit articles of impeachment to the Senate ahead of Trump's trial which will begin next week.
The impeachment managers are to make the case that Trump is guilty of abuse of power and obstruction of Congress.
The team of managers will be led by Adam Schiff, the intelligence committee chairman and Jerry Nadler, chair of the judiciary committee, both men known adversaries of Trump.
In addition to Schiff and Nadler, other managers were: Hakeem Jeffries of New York, Zoe Lofgren of California, Val Demings of Florida, Jason Crow of Colorado and Sylvia Garcia of Texas.
"The emphasis is on litigators," Pelosi said in introducing the group. "The emphasis is on comfort level in the courtroom. The emphasis is on making the strongest possible case to protect and defend the constitution in the name of the American people."
"Time has been our friend in all of this because it has yielded incriminating evidence, more truth, into the public domain," Pelosi said.